MAIN - IN THE PRESS - CAST - CREW - SHOOTING LOCATIONS - PHOTO GALLERIES - RUMORS FROM THE SET - MEDIA - CONCEPT ART - LINKS - DISCUSS
DECEMBER 2006
12/31/06       For a while now, we've had some info available in the Props Gallery about some items The Wareham Forge made for Outlander.  Darrell Markewitz, of the Wareham Forge put in a lot of effort to make sure the props he created were historically accurate to the period, whether or not Outlander needed to attempt to be.  He sent us a message to let us know about what sounds like a neat place to visit. He took part in helping recreate an accurate Viking settlement in eastern Canada. Anyone interested in what Viking life was like over a millennium ago, should find these sites interesting.  He're what he had to say:
         I created the "Norse Encampment" living history program for Parks Canada at L'Anse aux Meadows NHSC . This is the only documented Viking Age occupation site in North America, circa 1000 AD. I also created the stand alone exhibit 'World of the Norse' for the Cranbrook Institute of Science. Both exhibits are documented by supporting web sites:  http://www.warehamforge.ca/encamp ; http://home.golden.net/~wareham/worldnorse/
         Of course both of these exhibits focus on the daily life during the Viking Age.
 He also let us know about some of the other items that were made for the film.  I'll let him explain:
         A close friend of mine - David Cox, also created a number of historically accurate objects for the background sets.  Dave has worked with me both as a historic interpreter and assisting on construction of 'World of the Norse'.  He was also contacted by Ian Greig, in this case to make a number of larger wooden objects.  Dave built a number of Norse style 'warp weighted' looms, with the associated textile production tools.  Again these were all close replicas of known historic artifacts from the period.  His wife, Anne Crown, wove textiles on these same looms so they could be seen 'in use'.  Those wanting to see what these kind of looms look like (both detail and historic context) can check the web site of the 'Dark Ages Re-Creation Company' at: http://www.darkcompany.ca/photos/textiletools.htm 
         Dave also has provided a bed, based on the one from the Oseberg ship burial. A little digging on any of the DARK web site should get you an
image of that exact piece (look for 'Grimmi's Bed').
<![if !vml]>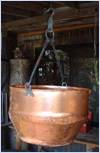 <![endif]>  <![if !vml]>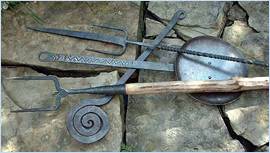 <![endif]>
12/30/06       BREAKING NEWS:  Outlander dodges a bullet?
After scheduled talks broke down December 21, ACTRA – the union governing actors and actresses in most of Canada- was poised to strike starting Monday leaving some question as to how, if at all, the production of Outlander would be affected, which has only a week of principle photography left.  There doesn't seem to be any sign that they are behind on their shooting and the cast is all set to return from their Christmas break.
The CFTPA has issued a press release, that you can read here, where it's brought to our attention that the CFTPA and ACTRA have agreed to resume contract negotiations starting Wednesday, January 3rd, 2007.  In turn, ACTRA has agreed not to strike until after those talks break down, should they not come to any agreement.  So unless talks go downhill fast, Outlander should be able to get most shooting done without having to worry about any strike action. 
12/29/06       What kind of Viking village would it be without livestock?   To make sure everything is as it should be, various animals were cast in various roles, from sheep and chickens, to dogs and horses.  I'm sure the auditioning process was interesting…  Anyway, to fill this need Gary Hiltz's oxen, Bright and Lion were brought to the set.  South Shore Now talked to Gary about what made his animals right for the part.  You can read the article here.
         There were other animals, such as horses, goats and hens, on the film set. When Mr. Hiltz wasn't there, his oxen were minded by a crew member whose only job was to care for the animals. Mr. Hiltz says he never worried about his team because everyone was so good to them.
On another note, we'd like to thank everyone for bearing with us these first few weeks.  We're still pretty new to all this and are constantly looking for ways to improve. 
As such, a number of sections were holdovers from the initial stages of this project when all we had to go on were a few extras reports and those reports made up the bulk of our information that we had been pooling en mass between friends.  Of course now out site has blossomed into something on a much larger scale.  
With that in mind we've turned most of what was once the "reports from the set" section into a single article along the lines of a production diary, hopefully retaining most of what made those reports interesting, all the while allowing for various posters a greater degree of anonymity.  You can find the new page here.
Also if theres something you wanted to discuss about the movie feel free to post in the outlander thread at Crius.net linked to in the menu bar at the top of the page.  You *can* post new topics, but please make sure they stay in the off-topic forum.   But, if you simply have something to report, please use the e-mail link at the bottom of the page.
<![if !vml]>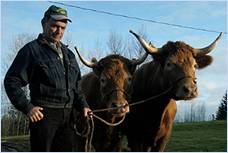 <![endif]>
12/29/06       The Daily Mail out of the UK has an interesting article about Sophia Myles.  Have you wondered what else the actress who plays Kainans love interest has been up to besides dating Doctor Who?  This acticle has a bunch of neat background info about Sophia.  It also discuses one of her latest projects to hit the screen, a BBC update of Bram Stoker's Dracula.  Viewers in the UK could have cought it on television last night, but us folks in North America will have to wait until February 11th   2007.  It looks like an interesting take on the story.  It's not the first time she's played a fanged toothed fiend.   She played the wonderfully sexy Erika in 2003's Underworld (Her role is much larger in the extended cut).
Eventually, of course, they get around to asking her about her current project, Outlander (from which she's spending the Christmas break back in the UK).
         I've been wanting to do an action film for ages because I've never been pushed to my physical limits before,' says Myles.
In other news, Patrick Stevenson recently talked to The Daily Gleaner about his Character in Outlander.   It's pretty neat to read about the efforts various actors take to make their performances ring true.  You can read what he had to say here.
         Stevenson plays Unferth, a superstitious character who wears a Thor's hammer pendant.
         "He's very much into the pagan gods of the time. So, I learned about the pagan gods, studied Thor and the runes and everything that would influence him in particular."
<![if !vml]>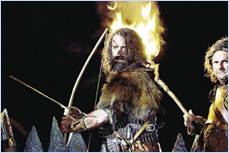 <![endif]>
12/28/06       We were pleasantly surprised recently when the talented people at The Schmitthenner Armory contacted us about the work they did on the film.  They were kind enough to provide us with some great photos – for which we're grateful - of some of the work they did to give Outlander an authentic period feel.  We've started a new gallery page to highlight these images along with a bit more info on the individual pieces.  You can find the gallery here.
         "Special attention was given to aging the leather, rivets and buckles. Runes and symbols were etched into the materials. We are proud to have contributed in presenting depth to this movie."
<![if !vml]>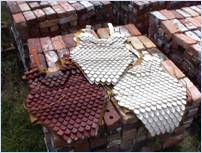 <![endif]>  <![if !vml]>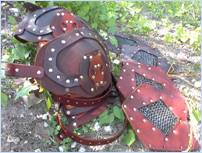 <![endif]>
12/27/06       Following up on yesterdays update about The Western Star article,  we discovered a column by Western Star writer Gary Kean.  Apparently he wasn't immune to the buzz about the film and applied himself to be a Viking extra.   You can read about how he got to stand in a wet bog for hours in the bitter cold, be Viking pallbearer, and loved every minute of it here. 
         "Once I saw a press release from Theatre Newfoundland Labrador, stating the search was on for long-haired, bearded and fair-skinned men to act as background performers for the Viking epic Outlander, I immediately knew they were looking for people who looked like me."
         "I sent off my photos and other information and waited to hear back. Sure enough, I got a call."
On  another note, if you happen to be in Atlantic Canada, we could use your help.  There are a number of articles that have appeared in local papers that simply aren't available.   If you see any of these, please let us know.  For example, here are a few that we are aware of:
October 24            Shelburne County's The Coast Guard ran an article about six-foot tall barrels that were shipped for the film
October 26            The Western Star had an article about sheep that were cast in the movie
October 30            The Gulf News had a piece on a local actress from Port aux Basques who's blonde hair helped her land a role in the film.   It seems this piece was re-ran in the November 7th Georgian.
November 24         The Weekly News – possibly a regional version of the Halifax Daily News, ran a story about a number of Dartmouth teens that had parts as extras in the film.                                                                                                                    
<![if !vml]>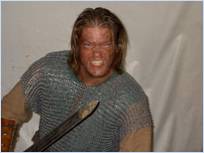 <![endif]>  <![if !vml]>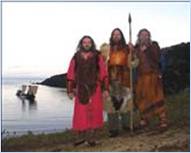 <![endif]>
12/26/06       We recently came across another interesting news article we missed a while back.  In fact it dates back to some of the earliest reports we got out of Newfoundland from the CBC.  Corner Brook's newspaper, The Western Star visited the set as the week-long shoot came to a close and talked with executive producer Don Carmody.  He talks a bit about what the production crew liked about the location, as well as some of the challenges of developing a local film industry.
         "It's a very scenic location and it works very well for us," said Carmody. "We have this inlet that simulates part of a fjord. We have these spectacular cliffs and mountains with good access for getting equipment up. We have this very convenient dock that allows us to work off of it, yet shoot what we need and avoid it, so it's quite a unique location in that regard...
         "We were quite knocked out by it."
You can read the whole article here.
<![if !vml]>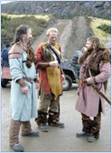 <![endif]>
12/25/06       We have a number of smaller updates to the site today.  We've added at least 15 more entries to the crew page and a few entries and pictures to the cast page.  Also you may find it interesting to browse the following links we've recently come across.
Jeremy Braben is director of aerial photography and works for Helicopter film Services. 
Tal Peleg is an animator over at SPIN working on the digital effects.  His portfolio webpage can be found here. 
Production designer David Hackl's site hasn't been updated in a while and is missing any entries for his work on the Saw series.  His page can be found here. 
Also, check out David Kuklish's– visual effects supervisor for Outlander – site here.
We also happened across the website for the lead animator, Scott Johnston.  His blog provides an interesting look into the work of a CG animator on projects like The Wild.
         I haven't updated in a long time... life got busy. I left IDT a month ago and accepted a job at Spin Productions to work on an Effects film called Outlander. It's a new experience working on a film integrating the animation into live action. Long ago I worked on a TV series called Ace Lightning where we did the same kind of thing, but this is a whole new level of detail.
<![if !vml]>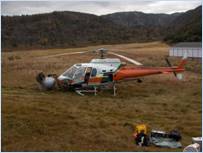 <![endif]>  <![if !vml]>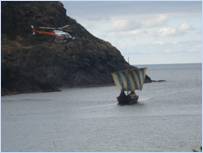 <![endif]>
12/24/06       Trouble Brewing?
                   ACTRA, the union that oversees film, television, and radio artists in all of Canada except British Columbia – which has a separate union, has issued press releases [Read them here, and here] in which they say 97% of their members have voted to strike if a new collective agreement is not reached by December 31.  Scheduled talks broke down December 21st.  You can read the other side of the issue at the Canadian Film and Television Production Association (CFTPA)'s web site here.
                   Last week, Variety has apparently also reported that the uncertain labour situation has already cost the industry.  The producers of The Pink Panther 2 and Disney's National Treasure II: The Book of Secrets, have decided to not shoot in Toronto and Montreal respectively because of the potential strike.
                   CBC news reports of these developments here where they point out that the producers of Outlander were unwilling to comment on the potential impact of a strike on their project.  We do know, though, that shooting in Halifax is scheduled to conclude after the first week in January.  That means that a potential strike could either force them to rush to shoot the remaining scenes in the last week of December or that these scenes could either have to wait till after a settlement or that, if it's all studio work, the remaining scenes could possibly (though expensive) be moved elsewhere.  I suppose the other unfavorable option would be that the production could force non ACTRA members to cross picket lines and the production could finish with replacement workers.
                   Either way , I think we all hope that this can be resolved favorably before any of these things become an issue.  December 31 is still a week away.
                   On a brighter note, we've added a handful of new images (seen below) to the picture galleries.
<![if !vml]>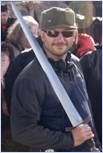 <![endif]>  <![if !vml]>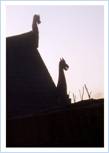 <![endif]>  <![if !vml]>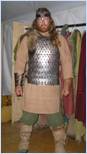 <![endif]>  <![if !vml]>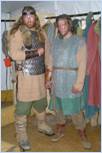 <![endif]>  <![if !vml]>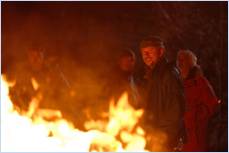 <![endif]>
12/22/06       We have it on good word that the production is currently filming a number of scenes that take place on Kainan's home world.  We're actually fairly impressed with the scope of this movie.  We've taken some screen shots of some of the new concept art seen in the Hypaspace video from a week or two ago and added them to the concept art gallery.  They're a little fuzzy due to the source but interestingly two of them are titled "Kainan Family Compound" and "Kainan Backyard."  So we're guessing the scenes are probably flashbacks to Kainan's past. 
Once those scenes wrap up, the crew is taking a short break for the Christmas holidays, and will be back filming at least until the end of the first week in January.  Were getting pretty anxious here as the end of principle photography for Outlander nears, after which the movie heads into post production under SPIN out of Toronto, Ontario. 
Also, you may have noticed that we've reorganized the main page.  This will allow all the hyperlinks to work in Firefox, though there are still some issues with the pictures displaying on the main page in Firefox, including the big Outlander title at the top. 
<![if !vml]>
<![endif]>  <![if !vml]>

<![endif]>
<![if !vml]>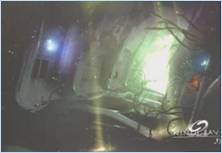 <![endif]>  <![if !vml]>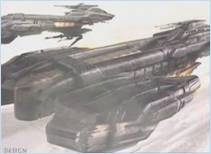 <![endif]>
12/20/06       Magazine dons Carmody
Apparently, Outlander Executive Producer Don Carmody was the focus of a recent article in MovieScope magazine.  The magazine's writers visited him on the set of Outlander to discuss his 30 year career in film.  You can read the article description here.  Of course we won't know if he actually discusses Outlander in the article (but why wouldn't he?) until someone picks up the magazine.  However, It might be worth picking up even if it doesn't.  The site also provides a low res shot of the article that seems to indicate that it may actually contain one of the very first pictures from the set in actual print.
         On location in Halifax, Nova Scotia, where Carmody is producing his next movie, Outlander, an epic Viking action/adventure, we sat down to talk about some of the films he has made—including a movie franchise that began as a video game, a cult favourite that will soon have a sequel—even though the original movie has never been theatrically released—and a box-office bomb that has since become a holiday classic.
<![if !vml]>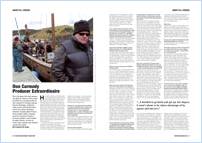 <![endif]>
12/19/06       Did anyone happen to catch last Friday's episode (Dec. 15/06) of Fangoria Radio on Sirius satellite radio or over their subscription based online broadcast?  Apparently Patrick Tatopoulos, conceptual designer of the Moorwen, was on to talk about Outlander.  If you happen to have heard it, let us know.
                   Here's a story that doesn't affect the theatrical release of Outlander.  However, it seems Blockbuster and The Weinstein Co. have made a deal that will limit your ability to rent the movie from various locations.  
When the movie is released on DVD and presumably in whichever high definition format is still around  a year and a half from now you will only be able to rent it from blockbuster and its affiliates.   Likely it will still be available for purchase at most retail outlets but other large chains such as Movie Gallery and Netflix will not be getting tittles from The Weinstein Co.  People wanting to rent the movie through a Netflix-like online service won't be left out as titles such as outlander should be available through Blockbuster's own online service.  Variety reports:
In an unusual exclusive arrangement, the Weinstein Co. has pacted with Blockbuster to make the vidtailer the rental outlet for all its releases. Four-year deal dictates that TWC will not make available any titles through competing rental outlets -- including Blockbuster rivals Netflix and Movie Gallery -- beginning in January. In return, Blockbuster will offer front-of-store placement and other marketing exposure for Weinstein titles. Blockbuster also will guarantee payments that amount to a certain percentage of box office. Blockbuster will not participate in any theatrical box office for the pics. Deal does not cover DVD sales, and outlets that both sell and rent will be allowed to continue to sell titles. 
You can read the complete press release here.
12/19/06       We've fixed the problems with the picture galleries so from here on out you should notice that the thumbnails should load significantly faster.  Thanks for your patience.
Also, don't forget to check out the downloads in out multimedia section.
<![if !vml]>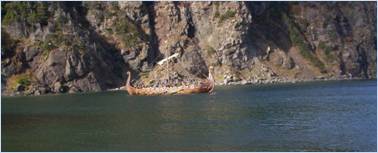 <![endif]>
12/18/06       Shooting on Outland finished in the Viking Village at Nine Mile River, Nova Scotia a few weeks back.  Since then, the production had moved indoors to the soundstages at Electropolis Studios in Halifax.  Detail regarding what kinds of sets and interiors they've built there are just starting to emerge.  I've previously speculated that there would probably be a spaceship set and there's no confirmation on that.  But apparently, the interiors sets include…  A Viking tavern?    J. William Grantham – in his latest blog entry – Reports having filmed various scenes of drinking, gambling and merrymaking in general, and it sounds like they had a lot of Fun doing it too.
Also, an extra (or "backgrounder" as they call themselves) that goes by glasswithclass pointed out that some scenes were shot on the set for the interior of the shield hall.  We've started a new page to keep track of various accounts from the Nova Scotia shoot and you can read Glasswithclass' account there.
On another note, we still haven't found any confirmation about the release date.  Most websites still list Outlander as TBA (to be announced) 2007 but some also specify that they expect it 3rd or 4th quarter 2007. One site www.filmjerk.com Specifies fall 2007 which places Outlander closer to September or October.   Interestingly, the site also speculates that the initial release will be seen on upwards of 2500 screens.  That places it in the moderate to high number of locations. 
12/17/06       It seems we missed at least one column from a few weeks ago.  Cathy MacDonald writes for Halifax's The Daily News and it seems her brother is part of the production crew.  So one day, when the shoot needed a short Viking… He asked if her son would be interested.  Of course, he said "YES!"  You can read the rest of the story here. 
                   Also, if you are interested in examining the historical accuracies (or inaccuracies) of Outlander, or any other Viking movie, a great place to start is at the BBC.   They have a pretty good page at http://www.bbc.co.uk/history/ancient/vikings/ where you can learn all about their dress, weapons, religion, and more.
                   I guess that also brings me to the question of when, exactly, is outlander supposed to take place?  Various places around the net peg the movie at 509 A.D., 709 A.D., and sometime around 900 A.D.  I'm fairly certain we can easily rule out the 509 date as it seems that most sources are repeating various early accounts when saying this date.   The confusion is more between the two later dates.   Most of the reports I've read have the 709 date in them.  The newer video from the space channel has Executive Producer Don Carmody mentioning the 900 A.D. date though.  Various sources have reported that there is a building on the Viking Village set - that has a cross with Christian proportions - that the crew calls "the church."  Not only had Viking civilization not reached its zenith by 700 A.D., that date is also aroundwhen the first Christian missionaries visited the norse (to little effect).  It wasn't till after 1000 A.D. that the Vikings had completely converted to Christianity.  So for everyone's sake, It looks like the best bet is 900 A.D.
12/16/06       Release date set?
                   www.jimcaviezel.us/ is suggesting that Outlander is slated for a July 12, or 13th 2007 theatrical release.  I haven't found any corroborating news releases on the web yet, and movie release dates, like PC game release dates tend to be somewhat fluid.  To us it seems like a fairly short stay in post-production, though not entirely unusual.  The fine people over at The Jim Caviezel fansite do sometimes get a heads-up on some news releases  though.  So if it is true, that puts Outlander in Cinemas a week after the Transformers live-action film, and squarly up against Harry Potter and the Order of the Phoenix.   The only good news about it going up against a surefire box-office titan is that Outlander seems like it's headed for an R rating in the US and will be targeting an older demographic than the Harry Potter movie, or Michael Bay's Transformers movie for that matter.
                   One other minor update to mention:  We've added a picture for Cliff Saunders to the Cast page
12/15/06       We've reloaded some of the image galleries so that hopefully they don't take as long to load.  Hopefully we'll be able to convert the thumbnails to JPEGs ,but for now reducing their size slightly should help.  Other minor changes include adding a link on the cast page to a Ron Perlman fan page and fixing another minor layout problem on that page.
12/13/06       outlander.solsector.net is now online!  We're doing our best to keep you up to date on the production of the upcoming film, Outlander.  If you were following the thread at crius.net, we've compiled most of what we had into an easier to follow format.   But we're just starting out so please feel free to offer reasonable suggestions on how to improve.
Don't forget to check out some of the exciting things we have recently added in our multimedia section, Like a nearly eight minute making-of video that you won't want to miss.
Also, we've heard recently that the crew is busy digitizing actors for an upcoming Outlander Video game!   Be sure we'll be digging into this story more and well certainly keep you informed about what we find. 
MAIN - IN THE PRESS - CAST - CREW - SHOOTING LOCATIONS - PHOTO GALLERIES - RUMORS FROM THE SET - MEDIA - CONCEPT ART - LINKS - DISCUSS