MAIN - IN THE PRESS - CAST - CREW - SHOOTING LOCATIONS - PHOTO GALLERIES - REPORTS FROM THE SET - MEDIA - CONCEPT ART - LINKS - DISCUSS
Back in august The Schmitthenner Armory, in Screven, Georgia, USA was contracted to provide a significant order of leather armor and various other pieces for the movie.   They were kind enough to contact us and have provided some interesting pictures of the work they did for the film, for which we thank them.  You can visit their website, and even order your own custom armor if you so desire, here:  http://www.schmitthenner.com/. 
They certainly seem like the right people for the Job, backed by centuries of experience in the armor making business! 
What's with the Crest at the top of the website pages?  Are you really descendants of middle ages armourers?
Actually, yes we are. The family crest you see depicted on the top of our web pages is our own family crest.We are descended directly from the Schmitthenner family and the history of the line that crafted armour for the royal guard whom protected the Emporer of a province of ancient Germania.We have the documentation available if there are any doubts, and will glady prove it, if you like.
Some of the movies costumes for the extras were reused from the similarly themed "Beowulf & Grendel" for which the folks at Schmitthenner had also provided armor for.  They pointed out though that the pieces reused were mostlythat it was mostly belts and baldrics.  Debra [Hanson, costume designer for 'Outlander' and 'Beowulf & Grendel'] said that mostly They wanted a different look for this movie, a little more of the type of armour which had a beaten used "Viking" look to it. So most of the main actor's armour was not reused for this film.
The people thus described the work they did for outlander as "a daunting amount of custom belts and baldrics, numerous armours and unreleased custom work", and they were hard at work crafting it right into October, just as the film was getting ready to star shooting.
"These all are photos of armour sepcifically crafted for the movie "Outlander" Special attention was given to aging the leather, rivets and buckles. Runes and symbols were etched into the materials. We are proud to have contributed in presenting depth to this movie.  In addition to these photos are other pauldrons and specially designed segmented arm armour for this film."
<![if !vml]>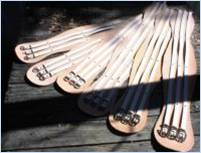 <![endif]>  <![if !vml]>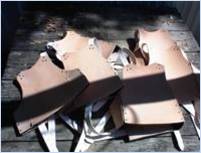 <![endif]>  <![if !vml]>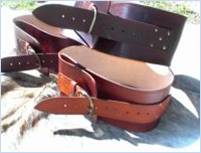 <![endif]>  <![if !vml]>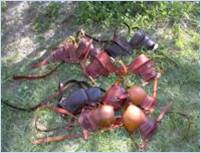 <![endif]>
"Some of the Women's double wrap belts, Medieval Ring belts, and Medieval Double wrap belts we did for the movie."
<![if !vml]>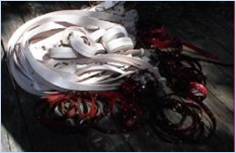 <![endif]>
"Our "Eurasian Scale" armour. Leather scale armour has been found as early as 6th Century B.C. I believe that this type of reproduction adds some real depth and grittiness to this movie."
<![if !vml]>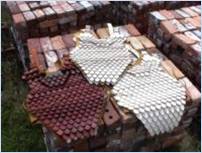 <![endif]>
"Lamellar" armour.
<![if !vml]>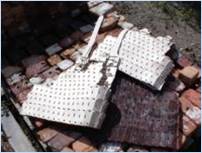 <![endif]>
A closer look at some pauldrons (shoulder armour) and leather/chainmail bracers (forearm defenses)
<![if !vml]>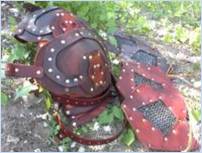 <![endif]>
"A Viking style derivation of the Roman style Manica, these "Viking" Style Segmented arms are decidedly of Celtic/Norse design. Celtic knotwork embossing of each lame, articulated elbow cop with tooled "Four Directions" handcrafted detail and sturdy 1" aged brass buckles and straps add to the overall quality of these arms."
<![if !vml]>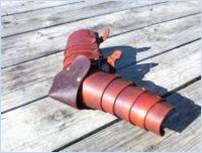 <![endif]>  <![if !vml]>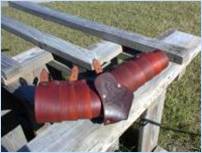 <![endif]>
"Norse style "Viking" bracers, reminiscent of around 9th Century AD, these bracers have deeply tooled design which conjures visions of early Nova Scotia Viking settlements or Icelandic ventures by the pioneers of the seas.  Originally custom designed for the movie "Outlander" starring James Caveziel, John Hurt and Jack Huston."
<![if !vml]>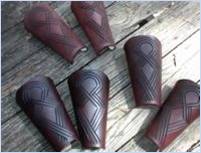 <![endif]>  <![if !vml]>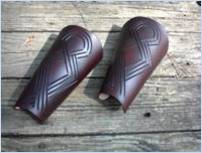 <![endif]>
MAIN - IN THE PRESS - CAST - CREW - SHOOTING LOCATIONS - PHOTO GALLERIES - REPORTS FROM THE SET - MEDIA - CONCEPT ART - LINKS - DISCUSS