MAIN - IN THE PRESS - CAST - CREW - SHOOTING LOCATIONS - PHOTO GALLERIES - RUMORS FROM THE SET - MEDIA - CONCEPT ART - LINKS - DISCUSS
SEPTEMBER 2007
09/27/07       Recently we updated about the young actor Bailey Maughan and posted a few images of him from the set.  Well, he wasn't the only child-actor in the film, so an anonymous contributor also sent along a few shots of one of the other young actors -  Owen Pattison - from the set.  We've made a gallery page for Owen here where you can see all the pictures we were sent.
Owen plays Galen in Outlander.  The IMDB calls Galen Kainan's (Caviezel) son.  Note that these pictures are the first to show some cool futuristic building panels and / or ship parts.  And check out the cool Moorwen scratches on the door!  We're curious how this plays out in the finished film.  Will we see scenes back on Kainan's planet like the concept art suggests?  Are they concurrent scenes to the movie's narrative or told in flashback?
Also we've begun to reorganize some of the photo galleries.  The galleries of Owen and Bailey are linked to from their pictures on the Cast page as well as being in a cast section of the galleries page.  While it may not happen immediately our intention is that each actor in the principal cast will have his or her own gallery page linked to from their cast photo.
<![if !vml]>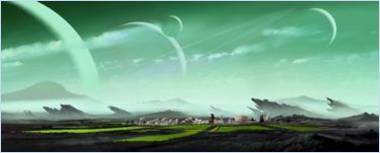 <![endif]>  <![if !vml]>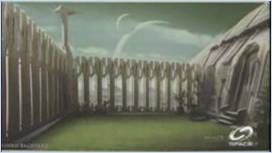 <![endif]>  <![if !vml]>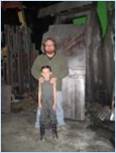 <![endif]>
09/26/07       BREAKING NEWS:  Outlander Composer revealed
We've finally uncovered who has been working on scoring Outlander.  Last  weeks issue (September 12th) of Film Music Weekly had an article on page five about the upcoming projects of Geoff Zanelli.  In it they identify him as Composer for Outlander.  Each issue also contains a list of upcoming films and their composers on the last page and that issue as well as this weeks has Outlander listed under Mr. Zanelli.  You can download the September 12th issue here.
Zanelli has provided the music for such movies as Disturbia and the upcoming Hitman. He also has additional music credits on all three Pirates of the Caribbean films.  You can listen to samples of his work on his website here.  From his website:
         Emmy Award Winning composer Geoff Zanelli has written music for filmmakers including Steven Spielberg, Ridley Scott, Jerry Bruckheimer, Gore Verbinski, Jeffrey Katzenberg, Ed Zwick, John Woo, David Duchovny and Michael Bay. His versatility is his strength, having contributed to a wide variety of scores, from Pirates Of The Caribbean: The Curse Of The Black Pearl to Matchstick Men, Into The West to Equilibrium, and Secret Window to House Of D.
As expected his Pirates work is reminiscent of Hanz Zimmer who I assume he was instructed to emulate for those pieces but the rest of the samples range effectively in style and emotion.  We look forward to hearing what kind of exciting, emotional and moving pieces he will come up with for the varied elements of Outlander.
09/23/07       Another half dozen or so entries have been added to our crew page, mostly in the Compositor category.  To some degree this is expected as compositing involves piecing together all the final elements of any given special effects scene. Some of the aditions include Jeff Bruneel, Trevor Chong and Anthony Sparapani.  Among the other additions we've also added entries for the fellows at Mondolithic Studios.
09/22/07       We recently got in touch with Mondolithic Studios to ask them about the artwork they did for Outlander's production that can be found in their Galleries.  They kindly allowed us to feature their art here on our site - for which we thank them -  and explained how exactly they were involved:
         "Our role in the film was purely preproduction. Ryan Church and his team did the core conceptual designs, which were passed onto us to 'massage' into a format that the 3d modelers could use/understand in order to construct and animate the models for the scenes spec'd in the storyboards/animatics. Some of our 3d mechanicals were actually used by the modelers to animate for the final scenes, but we are unsure just how many…."
         "To phrase it simply, Ryan's team did the broad strokes – inference, atmosphere, lighting, emotion; and we then went in and painted the details… which worked out quite well."
         "There is not much else I can say about the process other than it was a pleasure to work with Spin – who was handling the production and subcontracted to us."
You can find all the images in a new gallery to feature their Art here.
<![if !vml]>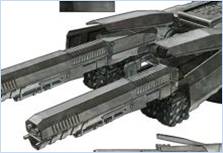 <![endif]>  <![if !vml]>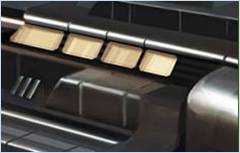 <![endif]>  <![if !vml]>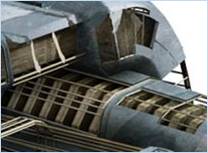 <![endif]>
09/21/07       Hugo emailed us to let us know about a short article about Outlander that appeared in the April/May issue of a French movie magazine called Ciné Live.  He kindly translated the article for everyone and sent in a scan that happens to include a great picture from the movie of Jim Caviezel and  and John Hurt.  Here's Hugo's translation of the article:
         It would be a great understatement to say that OUTLANDER has a lot of strings to its bow: it's an alien-movie, an action movie, a historical movie, a war movie, and so much more! It's a digression on the anglo-saxon epic poem "Beowulf", and it tells of Kainan (Jim Caviezel), a man from another galaxy, who, after the crash of his spaceship on Earth, must hunt down -with the help of the Vikings- the evil alien he has brought with him. This movie might reveal to be a trip stronger than all the drugs in the world..."
You can find the scan here, in our articles section, or by clicking on the image below.
<![if !vml]>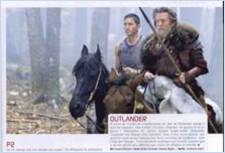 <![endif]>
09/20/07       Back in the spring, Sophia Myles chatted with outnow.ch about her role in Hallam Foe which was screening at the film festival in Berlin.  As usual the topic drifted over to outlander.  This time Sophia offered up some neat tidbits about the Moorwen as well as her first scenes with John Hurt in the movie: 
         ON:    You're next film is called Outlander. What's it about?
         SM:    It's set in Norway 7 or 9 A.D. and on about page four of the script an alien space ship crash-lands on planet earth with Jim Caviezel on board and also this terrifying creature called Moorwen. It's a dragon but it looks more like a ball. Unlike other monsters in film which are simply bad it is explained to the audience that this one is on revenge.
         ON:    What the hell are you doing in this film?
         SM:    I play Freya, a princess. My father is played by John Hurt. He's in power at the time. The first time you see us on film, we have a huge sword fight – 120 moves. We trained for months for that.
Outnow apparently only recently posted their interview online to coincide with the films general release, and you can read the whole thing here.  Thanks to Maria at sophiamyles.org for bringing it to our attention.
09/19/07       As promised we've updated our Newfoundland set gallery with about a half dozen new pictures.  A few of these were kindly sent along by Warren.   Commendably, he actually put forth effort to buy the shield and dagger that he used as an extra in the film from the Valentine armouries sale we reported on previously.  So in the first picture below he is seen standing in front of the burnt Viking boat from the film that still resides in Lark Harbour.  You may recall that the town was given the boat by the production after the shoot and possibly will restore it.  Should the movie be a smashing success it will surely be a great tourist draw.
         I aquired another photo of three Outlander extras in costume and I'm also posting one of myself holding two of my original props (A sheild and a dagger, that I bought on line from the prop company Valentine Armouries).  I'm at the site where the viking long boat in Outlander is resting. This is the holding area next to the actual film set in Little Port. The Viking boat has lost some of it's former glory (up on blocks, burn holes, no sail, the dragon head and tail sections have been removed). I'm hoping when the movie comes out, some extra care and attention will be afforded to it.
<![if !vml]>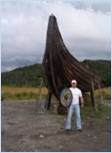 <![endif]>  <![if !vml]>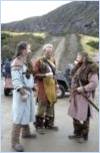 <![endif]>  <![if !vml]>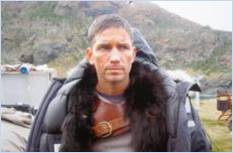 <![endif]>
09/018/07     Eric the Viking!
Bailey Maughan is the young fellow that plays Eric (according to the concept art) or Erick (According to the IMDB) in Outlander.  The young boy apparently has a fairly significant role in the movie and his mother was wonderful to kindly send us a note to tell us about an e-mail she recently exchanged with director Howard McCain.  Not only that, she sent along some great photos of Bailey on set and even a few extra of some of the crew and a neat snap shot of the concept art for Bailey's character.  Here's what she had to say:
         Hello from big fans of Outlander!
         We've been following progress on the movie and can't wait to see it.  Our son Bailey Maughan , who played Erick had an awesome time with this one! Anyway, onto the news.
         We received an email from Howard letting us know that ADR is still being "looked at and that Bailey may still be required to do some ADR", he's keeping us posted. This obviously translates to more work yet to be done, besides FX stuff.
         I have to insert here how amazed we were to hear from Howard so promptly (we emailed him and he responded a day later). Pretty awesome for a guy that's really busy. At the same time not surprising he was incredible to work with for Bailey, as was the entire cast and crew.
         Also please add Bailey's beloved tutor to your crew page. Her name is Margot Kauffman without who Bailey wouldn't have kept up with school work. She stayed up with Bay through long gruelling nights going over time tables and words of the week among other stuff you'd rather not be contemplating at 3 in the morning. She was awesome!!
The pictures really are great!  We've added a separate gallery for Mr. Maughan's pictures and you can find the pictures below along with the rest that she sent there.  Check out the amazing photo of Sophia Myles in warrior attire on set with cinematographer Pierre Gill.  As well, we'll be updating soon with more pictures from the Newfoundland set that Warren was kind enough to dig up, so keep checking back.
<![if !vml]>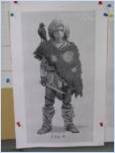 <![endif]>  <![if !vml]>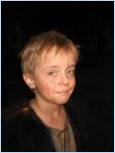 <![endif]>  <![if !vml]>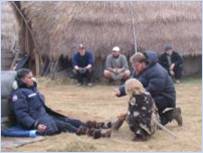 <![endif]>  <![if !vml]>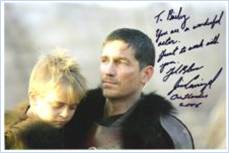 <![endif]>
<![if !vml]>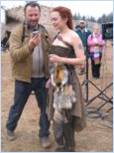 <![endif]>  <![if !vml]>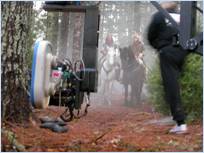 <![endif]>
09/09/07       We've added another matte painter to the Crew page.  You can find Barb Benoit's profile website and see samples of her other work here.  
09/06/07       While the details have been known for a while, we're certain there are still a lot of people out there wondering what happened to that film that was supposed to star Karl Urban (Lord of the Rings, Pathfinder, Doom) and be shot in New Zealand.  To that end, we came across and interesting piece of the puzzle the other day in the form of an industry news letter from New Zealand.  As you know, the movie was filmed in eastern Canada, but at one point in time the movie was being developed for a southern hemisphere shoot with Weta in control of the movie's effects.    In an Interview with UGO.com back in November, Director Howard McCain explained it this way: 
         A couple of years ago we tried to get it made, self financed. A friend of mine, Patrick Tatopolous did a fantastic creature for us for free. More time went by and we found this company called Ascendant Pictures, who just made Lucky Number Slevin and Barry Osborne, the producer of all three Lord of the Rings, was a huge fan of the script. and he came on board. This was about two years ago and at about that time the film was set to go to New Zealand with a significantly higher budget. But because it's an independently financed film, and a very expensive one at that, some of the money fell through. We'd already scouted New Zealand and Weta was going to do the effects. They were offering to do all of the armor and chain mail, and that stuff. We were going to shoot it in the South Islands, but that all collapsed, which was very sad.
So essentially, sometime around 2004, Ascendant comes on board, and work starts being set up in New Zealand. Wild Bunch takes over foreign distribution right and eventually The Weinsteins buy the US distribution rights to the movie in early 2005 around the time of the Cannes film festival.  Karl Urban is all but contracted to play the lead role.  And then it all falls apart by late 2005.  Karl goes off and shoots Pathfinder instead and, in another UGO.com interview explains that he didn't want to do another Viking movie after Pathfinder so the production also needed to look for a new star.  Documents from VIP medienfonds suggest that from late 2005 till the summer of 2006 Ascendant was considering Thomas Jane of The Punisher fame for the lead role (despite the Internet's continuous claims that Karl Urban was still attached)  And thus emerges that interesting piece of the puzzle we mentioned at the outset.  You can read the entire newsletter here.  But the interesting part is A brief article on Producer Barry Osbourne which contained this comment:
         Osborne has several New Zealand-based projects in the works. Some are in the early stages, while others have been announced but not yet realised because of funding and scripting issues.  Among the latter is Outlander, a futuristic action-adventure about a spaceman from another planet who crash lands on Earth during the time of the Vikings. Osborne says there have been various attempts to reduce its budget but he's holding out until it can be made the way it was intended.
All of this meshes quite well actually with Executive Producer Don Carmody's comments to shocktillyoudrop.com:
         It was challenging because my partners had tried to mount [the project] before in New Zealand with WETA and $65-70 million dollars. So they came to me and asked if I could help them raise the balance of the financing. I said if everybody is on the same page, we can do it, and as long as it's all up there on the screen we can do it. I think we succeeded, it was really tough."
Of course early estimates placed the new budget around 32 million though more current estimates suggest the final budget is closer to the 50 million dollar range.    From what we've seen, the effort to get the movie made has been well worth it and if the movie turns out to – like has been suggested – truly seem like a 100 million dollar picture despite it's smaller picture it seems there'll be a lot of thanks to send Mr. Carmody's way.
09/04/07       It would seem Outlander is a popular question on the Hallam Foe tour.  Sophia answered another reporter's queries in a quite similar manner to the Rotten Tomatoes interview we reported on in the last update.  You can watch the whole interview HERE or just the outlander specific portion HERE.  While you are at it you can also watch the Outlander bits from the Rotten Tomatoes interview HERE. 
09/02/07       Rotten Tomatoes' Joe Utichi recently caught up with Sophia Myles for an interview about the UK release of her new film Hallam Foe.  Sophia plays Freya in Outlander - a Viking princess and love interest for Caviezel's character Kainan - so it was inevitable that they would end up asking her about Outlander.  Here's our transcript of the portions of the conversation pertaining to Outlander:
         JU:     Is it more fun to be on location making a film?  Because Tristan and Isolde was ... some of the... some of the scenery in that film is just insane!
         SM:    Yeah.  I've just been... I've been out in... Halifax in Nova Scotia for three months doing this big Viking slash science fiction movie called Outlander.
         JU:     Right
         SM:    So... Yeah, you get to see all kinds of amazing places that you would never go to necessarily for a holiday.
         JU:     yeah
         SM:    I mean, hanging off cliffs in Newfoundland and stuff... swords and shields you know, it's just mad. I mean I guess...  It's great what I do for a living so even I get paid money to sort of go into the dressing box and dress up as different characters and go off to all these exciting places.
         JU:     You couldn't possibly ask for more could you!
         SM:    No, I love it!
         JU:     So what's Outlander... Outlander, what's that all about then?
         SM:    Hmm, It's a.. It's a Viking film, and I say that, It's set in 709 A.D. in Norway. But on page four, about four or five of the script a... an alien ship crash lands onto planet Earth with Jim Caviezel on board
         JU:     Right?
         SM:    and a terrifying creature called a Moorwen.  Jim Caviezel from Passion of the Christ - Jesus
         JU:     Yes
         SM:    Ah, who else is it?  John Hurt's in it and Ron Perlman from Hellboy - he's in it, Jack Huston, and myself.
         JU:     That sounds pretty high concept.
         SM:    Yeah, it's different.
         JU:     yes
         SM:    I haven't seen that mixture of science fiction and period before.
         JU:     Absolutely... So after Outlander what's next?
         SM:    I have absolutely no Idea I'm... I'm available..so, um yeah.  I'm not sure yet.  I'm waiting to find the next...  they haven't decided in my head what...  I think I have to kind of project what... manifests sort of... d'you know what... I've often found that if I've thought about the kind of thing I'd like to do next, something then seems to happen.  I've always wanted to do sword fighting and shield work and play a bit of a tomboy so that happened in Outlander, but I've got to kind of make my mind up.
If you are a Sophia Myles fan, or just want to see the whole interview in whatever flavor of flash video Rotten Tomatoes uses, click here.
<![if !vml]>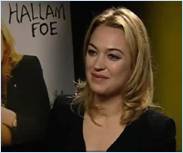 <![endif]>  <![if !vml]>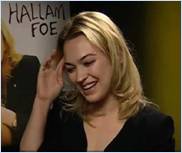 <![endif]>
09/01/07       We don't remember mentioning it so we'll go ahead and summarize some of what we learned by skimming a financial report for DHXmedia regarding production spending and revenues as far as outlander is concerned.  DHX is a leading independent supplier of television and film productions and apparently a lot of Outlander's needs were dealt for by this company. 
     Costs related to delivery of production service               $31.427 million
     (9 Months ending March 31, 2007)                     
     net production services revenues (9 months)                  $1.101 million
         Net production service revenues for Q2 2007                   $0.779 million
         Net production service revenues for Q1 2007                   $0.307 million
     direct production service costs  (9 Months)                    $0.844 million   
Note that the nearly 32 million spent on Outlander's production mainly pertains to the physical shoot in the Maritimes.  These costs do not seem to take into consideration the cost of the films digital effects nor any post-production costs incurred by the production.  We aren't accountants though so if someone wanted to break down the info in the report a little more thoroughly it would be highly appreciated.
In other site news, there are a couple more entries on the crew page as well as a new name on the cast page as per the latest IMDB update.
MAIN - IN THE PRESS - CAST - CREW - SHOOTING LOCATIONS - PHOTO GALLERIES - RUMORS FROM THE SET - MEDIA - CONCEPT ART - LINKS - DISCUSS