MORE CONCEPT ART (MONDOLITHIC)
MAIN - IN THE PRESS - CAST - CREW - SHOOTING LOCATIONS - PHOTO GALLERIES - RUMORS FROM THE SET - MEDIA - CONCEPT ART - LINKS - DISCUSS
We recently got in touch with Mondolithic Studios to ask them about the artwork they did for Outlander's production that can be found in their Galleries.  They kindly allowed us to feature their art here on our site and explained how exactly they were involved:
"Our role in the film was purely preproduction. Ryan Church and his team did the core conceptual designs, which were passed onto us to 'massage' into a format that the 3d modelers could use/understand in order to construct and animate the models for the scenes spec'd in the storyboards/animatics. Some of our 3d mechanicals were actually used by the modelers to animate for the final scenes, but we are unsure just how many…."
"To phrase it simply, Ryans team did the broad strokes – inference, atmosphere, lighting, emotion; and we then went in and painted the details… which worked out quite well."
"There is not much else I can say about the process other than it was a pleasure to work with Spin – who was handling the production and subcontracted to us."
You may recall Ryan Church as one of the talented artists at Ninth Ray Studios.  Back when Outlander was still prepping to shoot in New Zealand, they were contracted to do concept art and animatics for the movie and many of the movies details were worked out by them back then.  And Spin Productions is the company that was hired to do the digital effects work on the movie. Mondolithic Studios is Kenn Brown and Chris Wren and provide "cutting-edge illustration and design for a wide range of media, from book and magazine illustrations, to CD covers, online content, and concept and production design for film and public exhibitions"
Click on each image for a larger version of the artwork. 
<![if !vml]>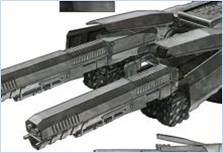 <![endif]>  <![if !vml]>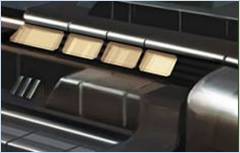 <![endif]>  <![if !vml]>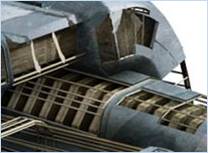 <![endif]>  <![if !vml]>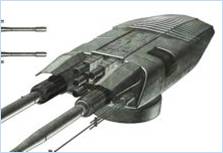 <![endif]>  <![if !vml]>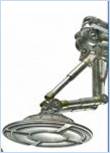 <![endif]>  <![if !vml]>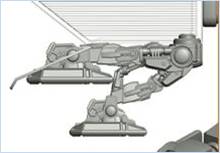 <![endif]>
MAIN - IN THE PRESS - CAST - CREW - SHOOTING LOCATIONS - PHOTO GALLERIES - RUMORS FROM THE SET - MEDIA - CONCEPT ART - LINKS - DISCUSS