MAIN - IN THE PRESS - CAST - CREW - SHOOTING LOCATIONS - PHOTO GALLERIES - RUMORS FROM THE SET - MEDIA - CONCEPT ART - LINKS - DISCUSS
APRIL 2007
04/29/07       Here at outlander.solsector.net, we both love and hate the IMDB.  Today is a perfect example why.  Cool news:  They added another actor to the cast list.   The down side:  IMDB continues to be incomplete and inaccurate and they take forever to fix errors even when they are obvious and people spend a lot of effort to point out to them where the mistakes are. 
Anyway, 8 year old Owen Pattison was added to the cast and the IMDB lists his part as "Galen, son of Kainen."   We mentioned previously that the concept art seen in the Space Channel video was labeled "Kainan family compound" and "Kainan backyard."  So today's news reinforces the rumors of scenes having been shot that take place on Kainan's homeworld.  However the idea that he left behind a family could complicate his stay on Earth, and or his romantic interest in a certain Viking princess.
<![if !vml]>

<![endif]>  <![if !vml]>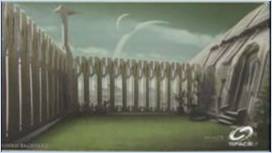 <![endif]>
04/28/07       Over the last week, we've added another handful of names to the Crew page.  Notable are three gentlemen working on the movie's digital effects.
Bojan Zoric is a digital matte artist.  Matte artists work at creating and implementing backgrounds into scenes.  In other movies you might have seen mattes used as star fields outside a spaceships windows, or mountains outside the windows of a house set built on an indoor stage.  Digital mattes have more flexibility of use and can be more realistic.  Working with green or blue screens, the artist can implement more complex scenes than previously possible with huge canvases draped outside the windows.  Sometimes existing horizons can even be replaced with more appropriate ones.  For example, there is some indication that the Outlander team is actively adding the hills of western Newfoundland to the background of footage shot on the Nova Scotia sets.  You can find examples of Bojan's matte art and other previous work on his website, here. 
Eric Doiron Is a digital Compositor and Effects artist.  Compositors combine various shot elements into one scene.  Sometimes the effect is obvious like in the classic split-screen shots of two people talking on the telephone.  And other times, their work is done best when no one notices.  Various effects shots might need overlaid on a filmed element and the viewers suspension of disbelief could be ruined if the blending was too obvious.  Check out some examples in Eric's demo reel.
And lastly, Drago Avdalovic is a character rigger.  He worked under contract with Spin Productions as the Moorwen's lead Rigger.  We described what this involves previously, but you can check out samples of Drago's previous work at his website, here.
04/27/07       Though we've had lots of pictures of extras in our gallery, we've been lacking in one notable area.  Of the numerous extras on the set, a number of cute kids also rounded out Viking village's population.  Todd noticed that we had few - if any - pictures of them so sent us along the following picture from the Newfoundland shoot.  Here's what he had to say:
         That's my son Cohen on the far left, they were pretty excited about taking part in the film.  The film crew and all the actors/extras paid a lot of attention to them.  Cohen got to spend a little bit of time talking with John Hurt as well.  It was a wonderful experience for them, besides taking a few days off school.
We really appreciate any and all contributions you, our readers, have made.  Thank you Todd for this picture and thanks to everyone who has sent something along in the past.
04/24/07       A couple of interesting tidbits surfaced over at www.shocktillyoudrop.com.  Apparently Ryan Rotten (We're assuming that's his online alias) got in touch with Executive producer Don Carmody for an update about the production.  You can find their update here.
         "The creature is looking good," producer Don Carmody tells us. Shock spied a look at the Moorwen during a visit to Patrick Tatopoulos' shop - and we found it accurately depicted the style of work we've seen from him in Godzilla and the "Underworld" films; later, an early peek at the beast found its way online here. "I just saw two more rough sequences with the creature where it's looking really, really cool."
         Carmody says Outlander conquered a rough start and endured an even tougher shooting schedule "sloggin' through the mud in Newfoundland and Halifax. It was challenging because my partners had tried to mount [the project] before in New Zealand with WETA and $65-70 million dollars. So they came to me and asked if I could help them raise the balance of the financing. I said if everybody is on the same page, we can do it, and as long as it's all up there on the screen we can do it. I think we succeeded, it was really tough."
         Presently, McCain is whittling down a three-hour cut (!) of his film. "The aim is [to release the film] for late-October, but the picture is running long," Carmody chuckles. "We're getting down to length and that may delay us a little, that's always the toughest thing." He adds that everything is on schedule FX-wise and that Outlander boasts an estimated 580 visual effects shots.
Personally, we wouldn't mind seeing a three hour version, but we'll settle for an extended DVD version.  Ideally, we would rather them just make a movie that works as intended instead of trying to force a predetermined length on it.  But at the same time a movie that drags isn't in anyone's best interests either. 
Also note though that they intend (as long as they can finish it on time) to release the movie in late October… *OF THIS YEAR!*  That's amazing news as some sources had the production team pushing for a summer '08 release.   Though it's too early to comment on the acting an how the movie will work as a dramatic whole, a fall release also puts it in a strong position to be an Oscar contender.   At the very least, hopefully it gets recognized for the hard work of the digital effect team on that astounding 580 visual effects, though it will obviously be up against effects heavy summer titles like Spider-man 3, Transformers, and Harry Potter, which all have considerably larger pools of money to work with.
<![if !vml]>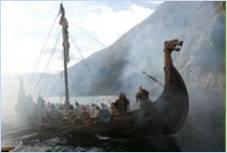 <![endif]>  <![if !vml]>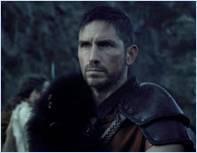 <![endif]>  <![if !vml]>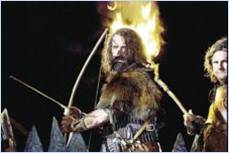 <![endif]>  <![if !vml]>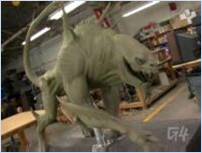 <![endif]>  <![if !vml]>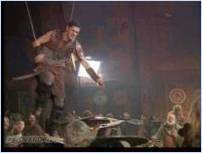 <![endif]>
04/21/07       Today this one can be filed under useless trivia, but all the same, it's kind of a neat tidbit.   Aparently, after Outlander's funding was in flux, and Karl Urban dropped off the project because he had just taken another Viking movie project (Pathfinder, which apparently opened in theaters April 13th to less than stellar acclaim) but before Jim Caviezel signed on to star in the Sci-fi epic about an alien visitation in the time of the Viking,   The role of Kainan was looking to be filled By… Thomas Jane!  You may remember Thomas from The Punisher movie. 
You can read ViP-medienfonds 4's quarterly report from which we gleaned this here.  Incidentally, putting "The Weinstein Company" into a German to English translator spits out "the Tartar Company."
<![if !vml]>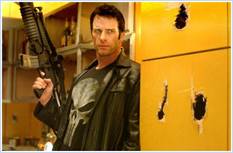 <![endif]>
04/21/07       Blue Rider Pictures, who provided bridge financing for Outlander, have updated their page for the movie. 
         What is bridge Financing?
         Bridge Financing is a loan made to a production prior to its primary production facility closing with another recognized lender. Without a Bridge Loan, and without cash flow, many independent producers risk losing actors and other key "elements" while waiting for their main bank loan to close. Bridge loans can help keep productions from falling apart. Blue Rider has lent sums ranging from $75,000 to $8 million, for periods averaging 90 to 120 days. When a production's bank loan closes, the production repays Blue Rider's Bridge Loan in full and also pays Blue Rider a fee.
         Blue Rider funded Bridge Financing for the upcoming $42-million sci-fi creature adventure Outlander, whose US distributor is The Weinstein Company. It stars Jim Caviezel as a space visitor who crash-lands into a seventh-century Norwegian Viking village, unwittingly bringing with him a murderous monster.
They didn't provide any new details about the plot or people involved but they did provide some detailed background info about a number of the people involved.  You can find the page here.   They did however provide a number of cool new shots from the movie and a reworked description of the movies plot.  It's too bad the pictures are low res but they give a good sense of how the movie will feel.
         Kainan, a space visitor who crash-lands among the majestic fjords of a seventh century Norwegian Viking village, unwittingly brings with him a murderous monster from another world--called The Moorwen. As the Moorwen ravages the Viking world, Kainan forms an unlikely alliance with the fierce, primitive Norse warriors. Kainan and the Vikings apply advanced technology to Iron Age weaponry in their desperate attempt to kill the monster, before it destroys everyone.
<![if !vml]>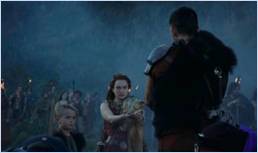 <![endif]>  <![if !vml]>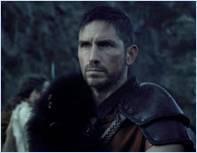 <![endif]>  <![if !vml]>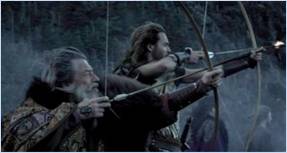 <![endif]>  <![if !vml]>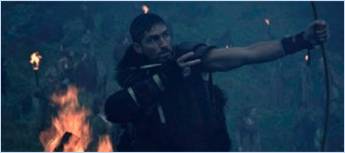 <![endif]>
04/17/07       We were previously aware that Craig Harris did work on Outlander, but recently the IMDB added him to the Cast list along with the "Viking Warrior" descriptor, which elevates him slightly above the level of a simple background performer.  So we've gone ahead and added him to out Cast page.
Craig is also a talented musician when he's not playing dress-up and running around in the mud.  You can hear samples of Craig's music here. 
Interestingly, quite a few of the extras on Outlander are musicians from the local Halifax music scene, and cover a wide range of styles.    In hearing their accounts, there seems to be a strong sense of camaraderie among them and it could certainly be the source of an interesting article in the future.
04/16/07       Cornerbrook's The Western Star, ran an article nearly a month ago about a soundstage that was built in the city.  While the article about a Mobile sound stage that is supposed to be housed there is somewhat political in nature, it does include a few notable technical tidbits about Outlander's production while in Newfoundland. 
The Atlantic Studios Co-operative purchased the mobile film production equipment which was used to help film the opening and closing scenes of the Viking movie in Lark Harbour in October 2006.   Some of the scenes filmed included norse-style funerals, complete with burning boats.
         Paul Pope, spokesperson for Atlantic Studios Co-operative, said…  the mobile equipment is doing what it was intended to do, including allowing many of the people who worked on Life with Derek to get work on the bigger Outlander production.
<![if !vml]>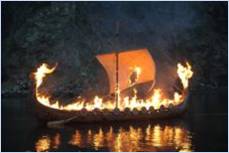 <![endif]>  <![if !vml]>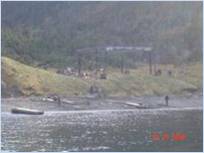 <![endif]>  <![if !vml]>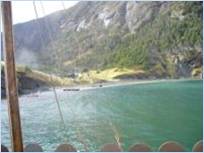 <![endif]>
04/15/07       Today's update adds Ran Sariel to the Crew page.  Ran is the rigging supervisor at Spin Productions on Outlander's CGI effects.  Mr Sariel has previously worked on such films as the recent animated feature Happily N'Ever After.    You can see samples of Ran's work on his website here.
Imagine trying to walk around without bones.   We would all be blobs of flesh on the ground without them.  Essentially 3D animation is similar.  Each model has a basic underlying skeletal structure around which the character is animated which determines how the model is manipulated and how the model will move.  A character rigger is responsible for determining how the 3d model is connected to the skeleton.   
04/13/07       We've added another three entries to the Crew page among which is Shaun Escayg.  Shaun is working as an animator at Spin Productions on Outlander's CGI effects.  You can see samples of Shaun's work on his website here. 
04/10/07       An article was run in yesterday's Toronto Star about fitness trainer Nuno de Salles.  De Salles worked with Outlander's actors and actresses to make sure they were able to meet the physical demands of the movies action scenes.   The Toronto star interviewed de Salles and Executive producer Don Carmody about their work together on various projects. 
         After the producer and the director, the next person in the pecking order to read the script is often de Salles.  After reading the script, reviewing any costumes to be used, de Salles said he then has a sit-down with the actors.  "Then I see, based on where they (actors) are at that particular point, where I'm going to take them," said de Salles...
         Among the films de Salles has worked on so far: Resident Evil II, Land of the Dead, Silent Hill and Highwaymen. Among the roster of satisfied clients to date: John Leguizamo (who did 12 chin-ups bare-chested for Land of the Dead), Jim Caviezel (who worked with de Salles on Highwaymen and the yet-to-released Outlander) and Sienna Guillory (Resident Evil II).
         The job does have its challenges for de Salles. Because of odd shooting schedules, he has routinely found himself in the gym, training actors like Caviezel, at 4 a.m.  "He was a high-level basketball player so he was extremely disciplined and it was quite an experience to work with somebody who was so eager to train," de Salles said, adding he helped sculpt Caviezel's physique just before the actor began filming the controversial Passion of the Christ.
You can read the full article here.
04/09/07       The Cinefex website now lists Eyetronics as having provided 3D scanning services on Outlander.  Eyetronics provides these services for various movies and video games.  Some of the movies they have worked on include Poseidon and this weeks box-office competitors Grindhouse and Blades of Glory.    They also provided player digitizing for games such as Major League Baseball 2007 and Mass effect.  This excerpt from their website describes their services:
         Eyetronics offers 3D scanning services to the digital content creation market, including movie, television, game and advertising.  We scan faces, heads, body parts and/or full bodies, as well as objects (e.g. cars, clay models, maquettes, statues, ...)
This could mean numerous things for Outlander.  Digitizing the Actors would immensely help the effects team blend the digital creature effects with live action elements.  For example, there are scenes where the actors interact with full scale Moorwen replica appendages.  Also, it helps make believable some effects that either aren't practical with real actors or that would be too expensive. 
As an added bonus, digitizing all the movies physical elements makes creating a tie-in video game somewhat easier.  We've heard rumours in the past to that effect, but haven't heard of any official merchandizing plans just yet.
In site related news we've added another handful of entries to the crew page.
04/06/07       Not familiar with Beowulf?  Well, It couldn't hurt to take a look at the original text which formed the springboard from which Outlander was launched.    The Epic old English poem was reworked with a sci-fi twist by Howard McCain and Dirk Blackman, and some names were changed to distance the movie from the Poem in peoples minds.   You can read an e-book version of the original here.
MAIN - IN THE PRESS - CAST - CREW - SHOOTING LOCATIONS - PHOTO GALLERIES - RUMORS FROM THE SET - MEDIA - CONCEPT ART - LINKS - DISCUSS