JULY 2008
09/27/08

Russian, Latvian, and Lithuanian Posters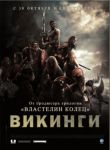 With October nearly upon us, a few more important dates aproach for Outlander's international release. The Russian premiere is only a month away. With That we actaully have two Russian posters to show you. The one here in the update includes the October 30th release date. The other is very similar and is available in our poster gallery.
The Lithuanian release date is just over two weeks away on October 17th. Even still, the film continues to make it's way around Latvia. during the first week of September the film was showing in the City of Ventspils. The Following week (appologies for not having any advance notice) the movie was in the City of Daugavpils from the 5th to the 11th. Begining yesterday, Outlander is showing in the vidzemnieks theater and music club in the city of Cesis. You can now also find lower resolution versions of the Latvian and Lithuanian editions of the movie poster in our poster gallery as well.
In other unsubstantiated news, we seem to be hearing reports that the movie also possibly opened in China or Hong Kong or a different Chinese speaking territory on wednesday. If there is anyone that can confirm or deny this or that has themselves seen the film in that region please let us know at outlander@solsector.net.
09/23/08

Russian Trailer

Appologies for the lack of updates in the last week. We've been a bit swamped with work that actually pays and thankfully it's been somewhat quiet newswise. Anyway, the latest addition to our Trailers page is a Russian dubbed version of the international trailer. It's an interesting look since rather than have titles over the trailer they opted to have a narrator speak those parts. It's a nice quality trailer for a flash video and the music is a little cleaner sounding and/or mixed differently. You can download the FLV directly from the trailers page as well.

Along with The Russian trailer we also have a spanish dubbed version, as well as an english one that has French and Dutch subtitles (simultaneously). Outlander should hit russian screens at the end of October.
09/15/08

McCain talks Outlander at Locarno

Here's an article we've been meaning to mention for a few weeks now. During the Locarno film festival, Howard McCain and others had ample opportunity to speak to the press about the film. As such an articled appeared in the festival's news letter in which he detailed a number of points regarding the background of the film's conception and filming. There's not really a lot of new info but it's certainly an interesting read. Download it at the festival's site here or read it HERE in our articles section.

Lead actor James Caviezel (The Thin Red Line, The Passion Of The Christ) approached the project with his customary intensity. "Jim liked in this that there were certain Christian parallels. That was not our intention, that was the way he read it. Not that we could disagree with that. Jim was very interested in this idea that for a science fiction movie about outer space, it was all about violence and the consequences of violence."
09/11/08

OUTLANDER RATED

The MPAA has finally sat down and officially stamped an R rating (unsurprisingly) for Outlander. The sole rating descriptor is for violence.

An interesting side note on all this is that Genius Products is listed as the distributor that submited the film for classification. The Weinstein Company remains silent on their intentions but have said there's no official release date for the DVD. They are also contractually obligated to at the very least a limited theatrical run for the film. Genius Products handles the distribution, marketing and sales of many of the Weinstein Company's home video offerings. It's no secret that the Weinstein Company likes to send their Genre fare to DVD. However, The Previous rumored November 18th DVD date is just that for the moment - a rumor. It's possible it will be announced for that date in the future but for now there is *no official date*. We'll let you know as soon as the Weinsteins decide to come clean.
09/07/08

Interviews - Dirk Blackman, Jack Huston

Outlander co-writer and executive producer Dirk Blackman recently did an interview with film-reviews.net about Outlander in which he discuses a few details about the scripts genesis, the film in general, as well as his upcomming projects for Lionsgate: Conan and Amazon. You can read the whole interview here.

Mark O'Connell: Does the storyline incorporate Norse mythology to any degree?

Dirk Blackman: Not really. There were nods to it in earlier drafts but they were cut for legnth. Ultimately, we liked the idea that the Vikings would sing of these events of the movie, and those poems would ultimately become "Beowulf".

Mark O'Connell: Did the actors suffer any injuries during production?

Dirk Blackman:Jack Huston broke his collar bone while executing a manly shoulder roll on the icy ground. There were also reports of pink eye going around during scenes on a waterfall set (the water is filtered and recycled) but they may or may not have been true.

- - -

As you may or may not know, shortly after the film premiered at the Locarno film festival in Switzerland Dirk also attended along with Jack Huston - Wulfric in Outlander - the Empire 2008 Movie-con in London England. The showed an audience a special 10 minute clip of the film and then took part in a Q&A session. Empire has finally put their responses online. Watch the clip below. WARNING: the clip contains coarse language. 10 minutes, 41 seconds:

Movie-Con 2008: Dirk Blackman, Jack Huston Q&A
09/06/08

Fantasy Filmfest Review Roundup - Part 3

As promised, here's our third edition of the Fantasy Filmfest review round-up. Again most of the impressions paint the movie positively as a fun and entertaining genre movie.

First up is Von Nils Bothmann's review HERE. He seems to have enjoyed the movie and says it has a "b-movie charm" and that it is a "dramatically simple, but extremely entertaining affair for friends of fantastic action cinema." He thought Caviezel was quite convincing and liked that the plot wasn't bogged down in unnecessary detail.

Next is this review from over at Filmflausen.de. He caught on to the Beowulf connection right away and praises the look of the film and the monster. He wasn't entirely taken with Caviezels performance but thought it was well enough. In conclusion he says the movie is more " 'Predator' meets' The 13th Warrior' than 'Dark Angel' meets 'Pathfinder', 'Outlander' is an excellent mix of genres with fantastic images and a fabulous monster" and he calls the film "outrageously entertaining."

This entry at the Eideh blog rates the movie a solid 8.7 out of 10. They attribute this to above average effects work, and a rousing score, and a strong cast. They call the film "surprisingly good" and they feel it should really appeal to fans of movies like 'Pitch Black.'

Yodama Also got to see the film and suggests that everyone should check it out when it gets it's regular theatrical release and adds that "Outlander offers good entertainment with sympathetic characters."

Wortvogel gave the movie a decent 7 out of 10. He commends the movie for "well-staged action, grand images, and great effects" and calls it "perfect mainstream entertainment. 'Outlander' is for me what ... "Beowulf" should have been." He also wishes the movie could have been a little more innovative. His main gripe with the film though had to do with it's male lead, Jim Caviezel. He felt his acting was wooden and that his expressions only ranged between "constipation and mild nuisance" and felt He had "no heroic spark".

st0rz.net Felt that 7.6/10 was a little too generous but that the movie was still "solid guys entertainment." He also felt that Ron Perlman and John Hurt should have been used more.

MovieReporter.net gives outlander a 6/10 (3.5/6). The call the narrative "nothing spectacular" and they didn't like some fo the camera work. However they also felt the film wasn't boring and they figure the cast was solid and the effects weren't bad for the budget.

Also We've mentioned it before but F3a.net has a few more reviews up. It has an interesting cross section of opinions on the film (all in german).
09/04/08

Myles Mentions Movie

Actress Sophia Myles - Freya in Outlander - recently did a number of interviews for the US press tour for her film 'Hallam Foe' (Or rather 'Mister Foe', as it is called stateside). In one such interview, New York Magazine asked her about Outlander. Of course we already know that the Nov DVD date was eroneous but it's nice to hear her repeat it here. Outlander is not going direct to DVD. Here's what she had to say:

"And the last movie you did before Moonlight was Outlander, which still hasn't come out. So..."

"What the fuck, yeah? [Laughs.] That's a crazy situation, and kind of the polar opposite of Mister Foe, which you'll come out of thinking about yourself, and your level of consciousness might be slightly enhanced. Outlander is set in Viking times in Norway, and very early on in the script an alien ship crash-lands on Earth and brings with it, as well as Jim Caviezel, this terrifying dragon. It's taking a while to come out. As always, there's drama, I think, behind the scenes. I'm not entirely sure. No one tells me because I'm just the actress. It will come out, and it's not true that it's going straight to DVD..."

Also, we hope to have another batch of Fantasy Filmfest reviews up tomorrow.
Click here to go back to the Update Archive