MAIN - IN THE PRESS - CAST - CREW - SHOOTING LOCATIONS - PHOTO GALLERIES - RUMORS FROM THE SET - MEDIA - CONCEPT ART - LINKS - DISCUSS
OCTOBER 2007
10/31/07       In a recent interview with Jim Bohannon, Jim Caviezel talked a bit about what fans can expect from Outlander.  He didn't actually say much about the movie at all, as the interview was mostly about a recent project that is an audio version of the Bible.  He did mention though when we might be able to expect the film to grace theaters:
         People will be profoundly blown away
         It will be released around the same time  300 was released last year, around February, March some time. And a lot of heat on it right now... If you like the Passion, If you like the Count of Monte Cristo you will love Outlander.
You can download the entire podcast here, but note that they don't keep them up for much more than two weeks so if you want to have a listen you won't want to wait too long.
He definitely sounds enthusiastic about the project as the post-production crew works to finish up.  We've suspected an early spring release for a while, and it would make sense that the Weinstein Company would try and go for the same audience that 300 found.    We'll let you all know as soon as there is any official word on a concrete release date that we can count down to. 
10/30/07       We're constantly looking for ways to improve the site.  In our effort to maintain accuracy we've added a number of names once again to our crew page.  We're constantly impressed by the level of talent working on bringing the Viking epic of Outlander to life, and the newest names are no exception.  This weeks additions include Clancy Silver, a digital compositor who's work includes Silent Hill and Mr. and Mrs. Smith.  You can check out his show reel at his site here.  One of the other additions is Ryan Yee, a senior animator who has worked on films such as Happy Feet, The Wild, and the upcoming Golden Compass.  Find out more about Ryan at his site here. 
10/25/07       An Important day slipped past and we forgot to mention it.  A week and a year ago Outlander began filming in Newfoundland.  Monday October 16th marked the first day of shooting and a week later on the 23rd the production moved to Nova Scotia for the remainder of the shoot.  Years of preproduction came to an end and Outlander started to become a reality on that day. 
The call for casting went out almost at the same time as for effects artists.  One of the earliest job postings we've come across was dated August 2006.  Spin Productions started work on the computer effects almost the same time if not before shooting started, and have pretty much been working on them steady for the entire year since.    If they reach their target, they should be finishing up rendering the final scenes very soon if they haven't done so already.  We hope the various effects people will take a day off and enjoy having completed another job well done.
Hopefully we don't need to wait another year to see the movie.  Hopefully we'll hear more conclusive news soon.   December 13th marks the one year anniversary of outlander.solsector.net so hopefully we'll try and put some neat things together to mark the occasion.  Any suggestions and any submissions or other news items can be submitted to outlander@solsector.net.   
<![if !vml]>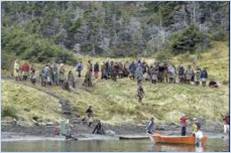 <![endif]>  <![if !vml]>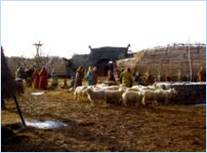 <![endif]>
10/19/07       We'd like to apologize for not updating more in the last two weeks.  Granted it has been slow newswise but there's things we *could* have written about.  On a more important note:
NOTICE:
Our personal ISP messed up our email account (this is entirely unrelated to hosting for outlander.solsector.net) and any emails you may have submitted in the last week were potentially lost or returned.  This issue has  been resolved and anything sent to outlander@solector.net should redirect to us just fine now  We kindly request that if you have submitted any news items or other emails, that you please resend them. 
Thank-you for your understanding
10/11/07       Once more we've updated the crew page with a handful of new names. Among the newest additions is Winston Lee, a digital compositor whose portfolio website can be found here.  Check it out to see samples of his past work.
10/01/07       The iconic boat from Outlander recently took another step toward being a permanent fixture in the Lark Harbour area. 
Previously we mentioned that the town was given the boat after the film shoot had finished in Newfoundland.  The town was considering fixing up the ship and installing it at nearby Blow Me Down provincial park.  As reported the other day in the Western Star, that dream came one more step towards reality. 
In a recent article, it was anounced that as part of their plans relating to oil production in the area, Tekoil would be spending on a number of community related endeavors such as Scholarships and various benefit packages.  Included in the anouncement though was that "Tekoil has committed to having the boat used in the major motion film Outlander (which was shot in the town last year) transported to the area and put on display." 
Of course, despite such an outpouring of money, there is always those opposed to such industry and should the developments move elsewhere we imagine that so would the funds slated for this project. 
<![if !vml]>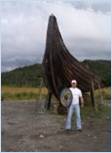 <![endif]>  <![if !vml]>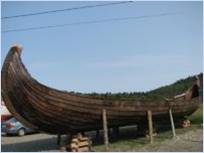 <![endif]>  <![if !vml]>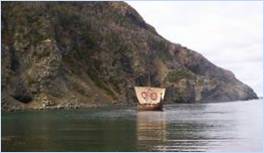 <![endif]>
MAIN - IN THE PRESS - CAST - CREW - SHOOTING LOCATIONS - PHOTO GALLERIES - RUMORS FROM THE SET - MEDIA - CONCEPT ART - LINKS - DISCUSS