NOVEMBER 2008
11/29/08

Spanish TV Spots

Today we have two Spanish TV spots for you via baldovi.net. They are aproximently 10 and 20 seconds in legnth respectively and feature a few brief flashes not seen in the other trailers and clips, such as Sophia Myles in a nifty leather halter...
11/27/08

Now Showing in the United Arab Emirates

Outlander also begins showing this weekend in the UAE. It's not entirely surprising that another middle east country would be showing the film so soon. The film was released theatrically not too long ago in Kuwait. Some of these countries share distributors for films and as such the film is thus already available with Arabic subtitles. That said, we're not entirely clear on who has distribution rights in that area. You can find a list of cinemas showing the film and showtimes here.
11/27/08

BREAKING NEWS: Outlander Screening This Weekend at Stockholm Film Festival

In a last minute move, the screening of 'Hooked' at the Stockholm Film Festival was moved making room for a replacement film. That happens to be Outlander! The film will be showing at the mega festival this saturday, the 29th at 10:00 P.M. (22:00).

If you are attending the Stockholm Film Festival, you can register and visit Outlander's page on the festival site to buy tickets HERE. The Swedish festival somewhat strives to focus attention on films made in that country yet hundres of films - many of the genre films - will screen at the festival.
11/26/08

Even More Contests! Possible Malaysian Release Date

It looks as if Outlander may be headed to Malaysian screens on January 1st, 2009. As such Golden Screen Cinemas is holding a promotional contest in wich you can win one pair out of 15 pairs of tickets up for grabs for a preview/premiere screening of the movie in that country. You can find the contest page here. You will need to register with the site for the contest and will have to answer three easy Outlander related questions for your chance at the tickets.
11/25/08

Taiwanese Contest Details / Italian Release Date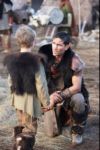 Once again, don't forget to check out the neat spanish Clips from the film. We've started a new media gallery page just for scenes and you can find it here or scroll down a little ways to watch the clips.
Yesterday we mentioned that there was - along with the spanish contest - a chance to win tickets to the showing of Outlander in Taiwan. Well, if you happen to be in that part of the world you can head over to The Liberty Times website and enter the contest here. Outlander comes out in Taiwan on December 5th. Nearest we can tell you have until the 3rd to enter the contest.
Spain is getting geared up for what looks to be the biggest theatrical release for the film of all the countries that have showed it so far. There was an advance screening last wednesday (possibly a press screening) to which the reaction has been as expected. There's also a special preview screening this Thursday in Barcelona being put on by the TR3SC club. It appears to be only open to club members, but even so, the screening is already all sold out!.
So from Taiwan, to spain, we now head to Italy where it seems to have been announced today that Outlander will hit theaters on July 3rd! We're still looking into this and should have word on who is distributing the film shortly.
11/24/08

Contest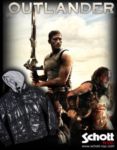 To further promote the spanish release of Outlander this weekend, DeAPlaneta (the Spanish Distributor) is holding a contest of sorts where people who register to their site have a chance at winning one of 9 Schott-NYC brand hooded coats. You can find the contest page here. DeAPlaneta have also created the nifty banner ad seen below. Also, don't forget to check out the awesome spanish clips from the film below.
They aren't the only ones running a promotion. Le Hai Pictures is seemingly also running a contest to win tickets to the Premiere in Taiwan on December 5th. We'd have more details on the contest for you if we could read Chinese so maybe a chinese reader could help us out in that regard.

11/17/08

Four New Outlander Clips!

We have a pretty exciting update for you today. The only catch is that it's all in spanish!

Outlander is coming to theaters in Spain in just over a weeks time (Nov. 28th). So to promote the release we have Five clips from the film all dubbed in spanish. Don't let that stop you from watching these. We're confident you'll be even more anxious to see this movie, and the clips still communicate the tone and style of the film.
---
Wait a minute? Didn't we say four new clips? That's because you've seen this first one before. It's the scene where Wulfric, believing Kainan had something to do with an attack on a neighboring village, interogates him to find out what he knows. You can watch an english version of this scene in our multimedia gallery.
---
This next scene has Wulfric bring Kainan before John Hurt's King Rothgar.
---
This is the longest of all the scenes we have for you today. It's a fun scene that takes place when Kainan is finally accepted by the Vikings. Wulfric challenges Kainan to a game of 'Shields' which just happens to take place on the backs of drunken Vikings!
---
This next bit is an emotional moment from a longer scene between Kainan and Freya where he is explaining his past to her:
---
The final scene we have for you today is possibly the centerpiece of the whole lot but also potentially contains the most spoilers. There's a few moments from this scene in the trailers, and it involves Kainan and Wulfric venturing beyond the Village walls and confronting a tempermental Moorwen!
11/14/08

Chinese TV Spots

The rest of November Promises to be an exciting time on the international release scene for Outlander. A number of Asian territories are potentially opening this month and Spanish theaters are being invaded on the 28th. December is no exception and is being kicked off with the Chinese (or at least a Chinese speaking territory) release on December 5th.

To get ready for the December 5th release, Le Hai Pictures has put out a plethora of neat TV spots that you can watch below! You will find two each of 5, 10, and 15 second TV spots as well as a one minute Teaser that is essentially a shortened version of the original second trailer. Much of these are familiar but there is some exciting new footage in here too which we'll point out as we go along.
5 Second Spots
Not a lot new here. This brief spot shows a roaring moorwen and Kainan's armored soldier with a brief shot of destruction on an alien world... pretty much stuff straight from the original trailers. Brief and Cool, this clip highlights the Sci-fi nature of the movie and leaves out the Vikings.
Again, this next spot seems to play off of the Sci-fi elements showing an armored soldier, some spaceships... and then Kainain stabing a burning moorwen with a sword. I believe elements of that scene are in the other trailers but that specific shot seems new... It's expanded on in the upcomming spots, so read (and watch) on.
10 Second Spots
Almost entirely new stuff here! We've had brief glimpses of some of this before but this TV spot focuses almost entirely on the monster aspect of Outlander. We get an extended scene essentially of Kainan having a standoff with a burning Moorwen. The previous 5 second spot had some elements of this as well.
Here's another great 10 second spot, and probably the best of the entire bunch! Again we get the same burning Moorwen scene but there's an extra bit of the moorwen charging, and then it ends with the waterfall bit from the end of the original second trailer with the Moorwen behind Jim Caviezel's character.
15 Second Spots
This next ad plays more like an abreviated version of the second trailer. Again though there's a lot of the Moorwen and spacemen and spaceships and not many vikings to be seen.
This is somewhat similar to the last spot but contains pretty much all the bits of the Burning Moorwen scene from the other spots scattered throughout it. The main thing that makes this spot stand appart from the others is that it ends with another chunk of new footage with the scene of Wulfric being knocked to the ground from behind by a Moorwen!.
Chinese Teaser
Nothing new here. This is just a shortened version of the second trailer... The music is even edited oddly for this reason.
11/09/08

Os Film Festival Impressions

The Os international film festival has wrapped up marking another successful outing for Outlander. Some impressions of the film are making their way online such as over ath this Norwegian site HERE. The writter says that Outlander was the best attended movie of the festival and described it as a fun, over-the-top blending of Alien, Army of Darkness, Predator, the Thirteenth Warrior, and John Wayne westerns. No word yet on whether the film was indeed shortened to 85 minutes or not though.

In other international release news, we're still trying to confirm the Russian outing for the film. A number of theater websites listed showtimes for the film earlier in the week, however as far as we can tell, in never ended up playing. The big movie of the week was Madagascar 2 which opened a week earlier than in North America to take advantage of holiday weekend. However weekly box office reports also don't include Outlander earnins. As far as we can tell, Central Partnership - the company handling the Russian release - is repositioning Outlander for a February 19th 2009 release - a day ahead of the film's premiere in the UK.

And despite what you might read elsewhere, you should not expect to see a region 1 DVD anytime next week. Some companies are taking preorders, but the facts remain that many of the same sites have since removed the available date (and in some cases the entire listing) from their sites. The Weinstein Company has not commented nor announced a release date for this DVD (or theatrical release for that matter) and has gone as far as to say there is no official date. They also do not include the film in their upcomming DVD (or theatrical) releases on their website. We also have no images of the DVD packaging - which usually find their way online weeks and even months ahead of the actual release - or details about features and technical specs of the disk. While we're aware that sometimes these things happen with very short notice, things just don't stack up for a release in a weeks time.
11/04/08

WT Os International Film Festival Kicks Off

As the genre filmfest in Os, Norway gets under way Wednesday, it's a good time to remind everyone that Outlander will be playing amongst the official selection. You can download a screening schedule from the festival's web site HERE. Outlander will be playing this Friday at 8:00 P.M.

Curious is that the festival organizers are listing the running time for the film at 85 minutes! You may remember that the official running time of the movie as shown in Locarno and Germany's Fantasy Filmfest was 115 minutes. That's an entire half hour difference! If anyone gets a chance to see the film on Friday, please let us know at outlander@solsector.net. We're curious to know how the film flows at such a short length. It doesn't entirely surprise us as one of the main complaints from those that didn't like the film was that the first half of the film was a little too slow.

We've also been hearing a bunch of other odd running times which were a little hesitant to take as fact. Some Russian sites list the film at 100 minutes, 104 minutes, 108 minutes, as well as the original 115 minutes. We're quick to dismiss the 100 minute value though as it seems to be the generic running length listed for films that don't have a proper running time yet. Most sites, for example, listed 90 minutes for Outlander at Locarno when in the final screening schedule it was listed at the correct 115 minute length. Oddly, a Vietnamese side is the only one listing the movie as longer than the original at 118 minutes! So anyone that gets to see the film in these countries should take notes - and a stopwatch - and let us know how long the film is and if it seemed like anything may have been cut. Given a detailed description, we should be able to let you know if it seems like you missed anything.
11/03/08

Order Outlander One-sheets?

EDIT: We're removing the links for the time being until we find out if they're selling cheap knock-offs or legitimate reproductions (which at the moment sounds unlikely). For the time being, we recommend holding off on ordering one. If you have already done so, we apologize for any inconvenience this may cause.

We've been asked numerous times where people can buy the neat Outlander poster. Well, it seems that Generic Poster Store is now offering outlander posters for sale. They have an 11x17 of the regular one and three sizes of the Spanish version which in our opinion is inferior, but it comes in an amazing 43x62... That's Awesome! But it also comes for the less awesome price of $59.99. The 11x17s will cost you about $19.99. Order yours HERE.
Click here to go back to the Update Archive