MAIN - IN THE PRESS - CAST - CREW - SHOOTING LOCATIONS - PHOTO GALLERIES - RUMORS FROM THE SET - MEDIA - CONCEPT ART - LINKS - DISCUSS
MAY 2007
05/23/07       Speaking of Wild Bunch, they just happen to have a fantastic gallery of Outlander concept art online.  Check out their gallery HERE!  There's a few neat character concepts and some interesting images of the Moorwen's planet, among others.  In total there are 14 new images, which include at least one better quality version of one of the images seen in the Space Channel featurette.
<![if !vml]>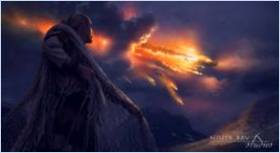 <![endif]>  <![if !vml]>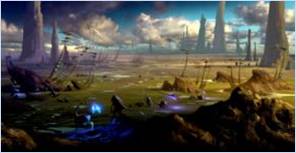 <![endif]>  <![if !vml]>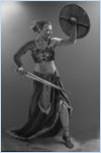 <![endif]>  <![if !vml]>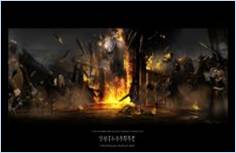 <![endif]>
05/22/07       Go ahead and back up:
Piecing together the future sometimes requires we look into the past.  In Outlander's case, it's struggle to get made, and the efforts to get it distributed are a strange yet interesting tale.  It begins with Howard McCain and Dirk Blackman and Patrick Tatopoulos almost 10 years ago and then takes a twist when it gets picked up by Production Company Ascendant Pictures somewhere around 2002 to 2004.  Mostly using German funding, the company fully intended to start shooting the movie in July 2005 with a reported budget around 45 million dollars.  With that they brought on Wild Bunch to handle the movies international distribution and they immediately set up shop to sign on various more regional distributors. 
Enter The Weinstein Company.  The Weinsteins then buy the north American rights to the movie (and hence the movie is since known as The Wienstein company's Outlander)  Karl Urban gets signed on, Ninth Ray studios works hard on the concept art, and Weta starts planning the special effects for a shoot in New Zealand that reportedly will cost upwards of 70 or 80 million dollars.   
In the meantime Wild Bunch continues to sell the distribution rights and the buzz is hot.  They get multiple offers that at times are even more than the asking price.  Eventually Pan Europeene (now wild bunch distribution) aquired the rights for france, J-net is in line to distribute the movie in Korea, Monolith in eastern Europe, and Central Partnership in Russia.   Then, somewhere along the way, some of the funding falls through, and the plug gets pulled on the New Zealand shoot mid 2005. 
Karl Urban drops out of the production and goes off to shoot Pathfinder, and the production looks at various other actors for the lead role.  According to VIP, the company behind much of Outlander's financing, For quite a while Thomas Jane is in line to play the main Character, Kainan.
Late in 2005 Wild Bunch is still hard at work selling the international rights for the film, selling the rights to to Planeta in Spain, Paradiso in Benelux (Belgium and Luxemburg) and Frenetic in Switzerland. 
The production looks for ways to shoot on a smaller budget and relocates to Eastern Canada in 2006.  Around August/ September 2006, sets and props are being built in Nova Scotia and Newfoundland, and Jim Caviezel signs on near the end of September.  Ascendant Pictures starts shooting the movie in October 2006 and finishes in January of 2007.  The movie's final cost is estimated around 42 million dollars.   In may 2007 Wild Bunch is still busy shopping the film in the Cannes Marketplace.  Reportedly they even have some film footage in their arsenal this time around.
Throughout all of this, the movie gets described as many things.  Wild Bunch chief Vincent Maraval called Outlander a "cross between Lord Of The Rings and Alien Vs. Predator." Sometimes it's described as something akin to Predator meets Braveheart, Vikings meet Predator, and Highlander meets Braveheart.  It's described as a hardcore monster movie that "follows a space ship that crash lands on Earth during the time of the Vikings - battles, wrongful imprisonment, a vengeful alien predator and love abound."
From this, we can start to piece together what we can expect when the movie is finally released.  Here's a list of distributors and their respective regions:
                   North america:            The Weinstein Company
                   France:                       Pan Europeene (AKA wild bunch Distribution)
                   Korea:                        J-Net
                   East Europe:              Monolith
                   Russia:                       Central Partnership
                   Spain:                        Planeta
                   Switzerland:               Frenetic
                   Belgium/Luxemburg:  Paradiso
                   Turkey:                       Umut Sanat
05/20/07       When Outlander's production team needed a life-size longboat replica that would not only look good on screen but would be manageable in the water, they turned to Apex Digital Craftsmen. 
Apex provided the design schematics that the builders in Frenchman's Cove used to put the ship together.  The boat was then trucked to the filming site in Lark Harbour where, using different masts and sails, it was burned twice to represent at least two different ships during the funeral scenes. 
<![if !vml]>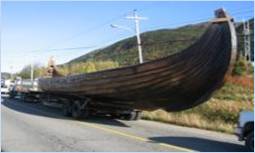 <![endif]>  <![if !vml]>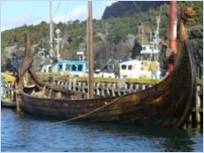 <![endif]>  <![if !vml]>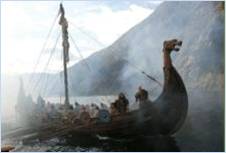 <![endif]>  <![if !vml]>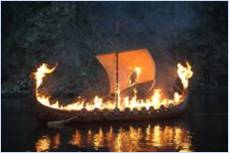 <![endif]>
05/19/07       Wild Bunch has posted their Cannes Screening Schedule and today is the day sloted for them to show promo reels in the Cannes Marketplace.  Presumably members of the industry will be able to catch scenes from Outlander at that event which starts (or perhaps started already) at 10a.m. in the Star2 theater. 
While most of us may not be able to catch a sneek peek at the Viking movie, and it remains unknown about which scenes are being shown and whether that includes any finished CG of the Moorwen, hopefully there will be some impressions of the footage to report on soon.
<![if !vml]>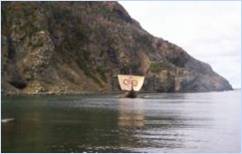 <![endif]>  <![if !vml]>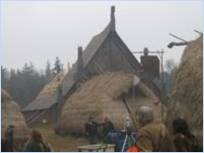 <![endif]>
05/16/07       BREAKING NEWS:  Outlander footage to be screened at Cannes!
As the Cannes film festival kicks in to high gear today, Wild Bunch is busy in the marketplace making deals to distribute outlander in various international markets.   Cineuropa is reporting that amidst other screenings and promo reels the company will be showcasing, they will also be screening Outlander footage!  You can read the whole article here.
Hopefully more will surface on this as the festival progresses.  We'll do our best to keep you up to date.
05/13/07       Beginning Wednesday, May 16 and running until the 27th, the prestigious Cannes film festival plays in France.  While Outlander most likely won't be making an appearance in any screenings, international distributor Wild Bunch will be promoting the film at the festival.  Check out http://www.cannesmarket.com/ to visit the website of the Cannes film Market.
Variety's coverage of the festival had this to say in article about people they expect to be involved in the future outworking of the event. 
         Philip Elway & John Ptak
         Ex-CAA agent Ptak and former VIP Medienfonds U.S. topper Elway formed Arsenal last year to help producers and distributors assemble pic slates and tap financing opportunities. Their roster includes Baldwin Entertainment, Endgame, Kadokawa USA, Maverick, Studio Hamburg and Wild Bunch. They'll have "Che," "Outlander," "The Stanford Prison Experiment," "Luna" and "Push" in the market mix at Cannes this year.
In other site news, we've added a few other names to the crew page, including a Goran Delic who did a few months of Illustration and production design at Spin Productions at the end of 2006.  Check out some of his other work at his website, here.
<![if !vml]>

<![endif]>
05/06/07       Check out the webpage for the East Coast Cine Services Inc.   The company is owned and run by Kelsey Smith, who himself works as cinematographer and steadicam operator on various projects.  Apparently he also worked as steadicam operator on Outlander along with François Perrier.  We've thus added him to the crew page.  Interestingly Kelsey has two separate entries at the IMDB and you can find them here and here.
05/04/07       We spent a little time rearranging the crew page.  In the process we added a few names that we had been aware of as being involved, but hadn't gotten around to including in the list.  Among the new entries are Patsy Chalmers-Gow (an assistant production coordinator), Russel Cate (a special makeup & physical effects artist), and Allison Klein (an assistant at Tatopoulos Studios).
It's actually kind of surprising how Outlander news surfaces in the oddest of places.  The Atlantic film festival association recently held  an international film festival for youths.  You can download the festival guide here.  Apparently, one of the workshops called Trading Faces: Special FX Make-Up was helmed by an Amanda O'leary.   Amanda is a make-up artist that worked on Outlander, possibly even applying fake wounds to many of the cast and extras.   So, she marks another recent addition to the crew page.
MAIN - IN THE PRESS - CAST - CREW - SHOOTING LOCATIONS - PHOTO GALLERIES - RUMORS FROM THE SET - MEDIA - CONCEPT ART - LINKS - DISCUSS