MAIN - IN THE PRESS - CAST - CREW - SHOOTING LOCATIONS - PHOTO GALLERIES - RUMORS FROM THE SET - MEDIA - CONCEPT ART - LINKS - DISCUSS
JANUARY 2008
01/31/08       In only a weeks time Berlinale 2008, a world renowned film festival, takes place.  The festival runs from February 7th to the 17th.   Outlander star, Sophia Myles' film Hallam Foe debuted at the festival last year to great reception. 
Apparently, Outlander's international distributor Wild Bunch will be bringing the film along to this year's festival in one fashion or another.  Cinando lists it as one of the titles for the European Film Market at the festival.  However as of right now, it doesn't appear that they will be screening the film for audiences.  The film isn't on the festival's online screening schedule.  Likely they will have info available to various potential distributors at a booth or display in the market and could possibly be showing some footage or a demo reel for the film.  We'll be keeping an eye on this.  Wild Bunch usually posts their festival screening schedules online so we'll be looking for that in the next few days.
If you are in Berlin for the festival we'd love to hear from you if you see anything related to outlander, even anonymously.  Just use the report link at the top of the page.   
01/29/08       For those of you hoping to watch Outlander in India,  it's come to out attention that Star Entertainment will be distributing the Viking epic in that region.  Star has previously distributed other Ascendant Pictures movies – such as The Jacket, starring Adrienne Brody.  You can visit the company page here, though the details for the Outlander entry are a little odd.  It mentions a January release date too but we don't think that's happened or will happen in the next day or so, so all you Indian Outlander fans will have to keep checking back for an actual release date . 
<![if !vml]>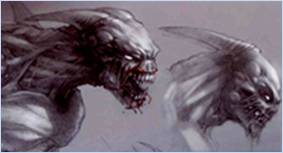 <![endif]>
01/27/08       One of the latest additions to our Crew page for Outlander is Tom Mayclim.  Tom is what is called a "negative cutter" which by definition (according to the IMDB) is "a person who matches the negative of a movie and conforms (matches) it to the final version of the film as decided by the filmmakers. From this negative the prints are made."   Did you read that correctly?   If so then now you know that they are pretty much ready to make prints to send out for viewing in actual theaters!  Of course we haven't heard if they have plans for any test audience showings or not, so now we just wait for word on a solid release date.   
01/14/08       Aside from the usual additions to the crew page, We've been busy revamping our Multimedia section a little.  All the files are still available for download but we've gone and embedded flash versions into the page so that you can view the videos in line if your heart desires.  Of course, it will still be better quality to just download our videos but we figured we should give you the option.  Enjoy.
01/02/08       As the new years opens, we eagerly look forward to what should be an exciting time for all of you who have been patiently following the production of Outlander.  While we keep watch for news about the upcoming release and publicity campaign we promise to continue reporting on events as they unfold.  While news has been slow (and we've been a little sidetracked with Mass Effect and The Orange Box on the x-box 360… looking forward to Burnout Paradise this month too!) we've been keeping our ears to the ground for whatever tidbits may surface.  While there may be some minor things to wrap up, the production team should be nearing completion on the film if they haven't already.  As usual, should you come across something you think we've missed, please don't hesitate to let us know at outlander@solsector.net . 
If you are just joining us, our news archives are likely to provide you with some interesting reading.  We've been live for over a year now, and Outlander is coming up to the one year anniversary of the last day of Principal photography in just a few days.   That year wasn't wasted mind you, as a  ton of work has been done to make sure all the CG is photo-realistic and melds perfectly with the live action photography.  At a current count, we have over 85 effects artists, modelers, compositors, etc listed in the Visual effects category for the film.
We mentioned recently a reported release date by Central Partnership for Outlander in Russia.  While we don't have any kind of official confirmation of the date just yet,  you might be interested to check out their page for Outlander here.  There isn't really any interesting info there yet but we assume it will fill out closer to release day.  This website here seems to back up the IMDB's September 4th 2008 russian release date.  That puts it one week ahead of The Dark Knight –the sequel to Batman Begins.
MAIN - IN THE PRESS - CAST - CREW - SHOOTING LOCATIONS - PHOTO GALLERIES - RUMORS FROM THE SET - MEDIA - CONCEPT ART - LINKS - DISCUSS