MAIN - IN THE PRESS - CAST - CREW - SHOOTING LOCATIONS - PHOTO GALLERIES - RUMORS FROM THE SET - MEDIA - CONCEPT ART - LINKS - DISCUSS
August 2007
08/29/07       A week ago we mentioned briefly how the IMDB keeps shifting Outlander's status.  At one point it said it was completed and now again says the movie is in post-production for re-editing.  Well, unsurprisingly the IMDB proves itself inaccurate.  In fact,  David Dodson - the very editor mentioned in the Markee magazine article -  sent us a message to shed some light on Outlander's status.  Here's what he had to say:
         As someone who works in OUTLANDER Editorial, I can clarify that the show has not "returned to the editing room." Simply put, the show has never left the editing room.
         But to be clear -- the film and all six reels are locked. However, as VFX continue to pour in and new and revised versions of animation, etc., are received, inevitably, adjustments must be made to shots, scenes, and sequences. This is likely to continue until all final VFX shots are delivered -- not uncommon for a show of this size.
Thank you David for the clarification.   Of course the folks over at Spin Productions are hard at work on outlander's estimated 500 effects shots, and will apparently be finishing them off through to October at least.  That means they will have been working on the digital effects for an entire year.  They started up the creature animation nearly the same time that cameras started rolling in Newfoundland. 
08/28/07       Among a number of pictures we recently added to the galleries, a handful caught our eye as seeming familiar.  In fact they are very much like a concept image that we've had for a little while.  Check below for yourselves and draw what conclusions you may!
<![if !vml]>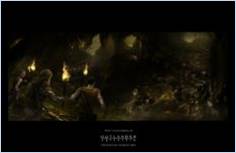 <![endif]>  <![if !vml]>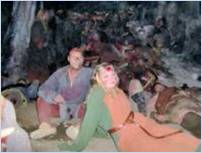 <![endif]>  <![if !vml]>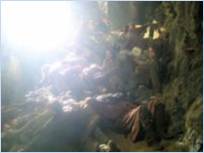 <![endif]>  <![if !vml]>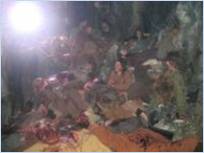 <![endif]>
08/27/07       Are you a facebook user?  Outlander seems to have made quite an impression on those who were fortunate to be a part of the experience of making the film.  There are at least three different facebook groups dedicated to the film.  If you were a part of the production you might want to check out the one that includes many background performers from the Nova Scotia shoot.  There's also a newer group that seems more general in natures as well as a small group of background performers from Newfoundland.  Yet it's that small group that seems the most affected and resilient.  Perhaps you remember some of the accounts from the Newfoundland set of standing for hours in a soggy bog in near freezing conditions.  Anyway, this inspired one of the actors to write a fantastic poem about the experience:
         LARK HARBOUR (By David J. Shaw )
         They're making a movie way down by the bay,
         With Hollywood people and stars so they say.
         And folks from the island who signed on to stand
         In the background, as extras, in the bog and the sand.
         We start on Black Tuesday in the rain and the cold.
         We stand here. We stand there. We stand where we're told.
         Stand up on the hillside. Stand down in the bogs.
         Stand next to the fire with the cast iron logs.
         A Viking adventure unfolds on the shore,
         And out in the cove as they pull on the oars.
         The long boat glides smoothly 'neath canvas and sail,
         She rolls in the troughs, and the pumps have to bail,
         To keep here afloat and safe for the crew.
         But they'll never know when the movie is through.
         About all the tricks 'twixt the camera and screen,
         But backgrounders know. They were part of the scene.
         "Roll cameras!" they shout. "Sound on!" someone screams.
         "Keep quiet!" "Don't move!" "Will those jackets be seen?"
         We stand in the bog with our torches on high,
         And when they yell "Cut!" we all breathe a sigh.
         "Keep 'em warm!" yells the voice and that's when we know,
         That making a movie is tedious and slow.
         "One more time!" "Go again!" "Right away!" Hold your ground.
         Something's wrong. With the camera? The angle? The sound?
         So we stand in the bog as our feet start to freeze.
         I'm sinking! My ankles! My shins! Not my knees!
         "That's a wrap! "That's a wrap! "That's a wrap!" comes the call.
         Grab your coats and your blankets, head back to the hall.
         On the bus, back to wardrobe, undress and get dressed.
         It's all over for now and most stood the test.
         We'll come back tomorrow and do it once more.
         To freeze off our arses down there by the shore.
         Outlanders, backgrounders, as extras we stood
         We hope when it's final that we did some good.
         We hope at the premiere that we will be seen,
         When we shout, "There I am!" on the big silver screen.
This kind of creative output is certainly something we'd love to see more of.  In fact another individual, Ryan Butt put in the effort to convert one of the pictures from the set into a neat water color painting that you can see below! 
Whether you are involved in the production or not, if Outlander has moved you to put your creative talents to use we'd love to feature them here on outlander.solsector.net.  You can send all submissions and a description of your work and why you made it  to outlander@solsector.net.    
<![if !vml]>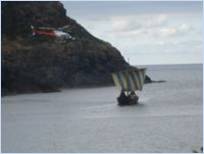 <![endif]>  <![if !vml]>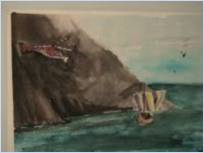 <![endif]>
08/26/07       Some minor updates to tell you about today:  First, we've updated the press articles section with a PDF of the actual article of the Markee magazine interview with Outlander editor David Dodson.  While the text is the same, it does have two pictures that might be of interest.  Second, We've again added a few more names to the effects department area of the Crew page.
Of another matter, we feel it's important to address some issues that we've been mulling over for a while.  While we love reporting on all the cool things happening with the movie, it's inevitable that as a movie production ramps up to completion, tempers flare, egos clash, stress takes its toll and people burn out.  Inevitably, no matter how good a movie turns out, there will be some kind of meltdown of relations and negative feelings.  Such is the case with at least some of those working on outlander in which it seems some of those involved had issues communicating. 
One of the Visual effects coordinators on the movie mentioned the "unproductive input from the key Vis FX person who is employed by the production" as a factor in some of the headaches of the animators over at Spin Productions and he was worried about "losing people because of the bad people skills of certain other people."  One local news site had this to say about the production when it reported on its completion of filming:
         The shoot was not without its difficulties. Insiders dubbed it 'Shoutlander' for the amount of tension on the set; one wag spoke of the production company attempting to make 'an $80 million dollar film on a $40 million dollar budget'.  Mind you, James Cameron's Titantic was also reported to be a demanding shoot in Nova Scotia, and it went on to cinematic glory, not to mention boffo box office.
Also, a little while ago we received an anonymous email that we were uncertain how to handle.  The writer – it would seem – is most likely involved in the effects side of the production as his complaints – like the effects coordinator – were mostly centered on the communications skills of the Director and the on-set effects team with the computer effects team (which began production almost immediately as the film began shooting).
He did provide a few interesting details that we were unaware of.  He mentioned that Jack Huston apparently broke his collarbone doing his own stunt while filming a shot where he dives under the Moorwen.  This meant that after that point, he was filmed with only a sword handle with the blade to be added later by computer.  He also pointed out one of the favorite physical effects of the stunt team: strap a harness on and actor, wrap the cord around his waist, then yank him, spinning him into the air.  
We haven't substantiated this report though, and the message was a weird mix of complaints as well.  They mostly centered around stuff that would make the effects team's work more difficult.  He also tossed in an odd assortment of errors as well.  He misspells 'Moorwen' as well as the name of the effects supervisor.  He mentioned the movie having only half the number of effects shots that the producers indicate the movie contains.  He spends most of the message discrediting the director,  while praising the actors for their efforts to take their roles seriously. 
Interestingly, we not too long ago reported on an article in playback magazine in which Outlander's Executive producer as well as Director of Photography Pierre Gill give differing views on the use of a Digital Intermediate.  Here's some of what he had to say:
         Gill adds that if the director isn't visual, then he's going to ask the FX supervisor to come up with a lot of things, which leads to the feature film version of the animatic - the pre-viz. This "virtual" construct of scenes with CG is sometimes created months before the DOP even arrives on the production, and can be expensive and labor-intensive.
         The FX guys might be showing up in preproduction earlier and earlier, but the way movies were made back in the day when Griffith and Bitzer went to war together remains the same. You write it. You shoot it. And you edit it. Gill calls it the three acts of creation, where the DOP and director are joined at the hip for most of the process. But there's a digital challenge to that relationship that needs to be monitored.
         "It's frustrating, because as a cinematographer my job and my skill is to find the nice angle and the nice camera movement," says Gill. "A guy that's working on the computer is really skilled at doing amazing stuff with 3D, but it doesn't mean that he's going to know exactly how to create a shot."
Some of the complaints seem to be exactly that: striking a balance between "creating a shot" and planning for the effects stage.  For our part we'd worry more if we never heard a single complaint actually.  We're fairly confident that they'll work out the issues.  For those interested you can read the entire email here, though for now we recommend taking it with a grain of salt.
08/21/07       While the majority of Outlander's editing is reportedly finished (though IMDB suggests the movie has returned to the editing room), the digital effects team is still hard at work completing the animation and visual effects for the film.  In fact, just this week they are still calling out for more effects workers to fly out to Vancouver or Toronto to work at Spin Productions various studios.  Yesterday, and last Thursday they put a call out for more FX artists and creature animators.  The work load is so intense that other studios have even been sub-contracted to work on various aspects of the movie
Also of note, they are expecting to wrap up the effects work in "late October".  If the production team is still looking at an October release (which would quite handily beat to theaters Beowulf's November release date) that means the effects work would be coming in right to the wire.   This isn't entirely unprecedented as many summer effects features like Transformers and Pirates of the Caribbean had extremely tight schedules to meet release dates announced sometimes over a year in advance.  However, no official release date has been yet announced for Outlander.  Also, earlier in the year, in an unrelated interview, Jim Caviezel suggested that Outlander would hit theaters in early 2008 (January or February).  However,  the question in context was a bit on the spot and he wasn't there to talk about Outlander.  It's a little hard to say how aware he would have been about the current release plans.  At the same time, he did apparently film some pickup visual effects shots as late as May/June of this year.
In site related news there are at least half a dozen  new additions to the crew page since the weekend, including a few in the stunt department and a couple in the sound department.
<![if !vml]>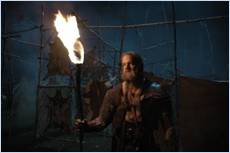 <![endif]>
08/19/07       First off, we'll apologize for the lack of updates over the last few weeks.  While we did do some minor tweaks to the site we were mostly taking some time off for vacation and family stuff.  So in the near future we hope to be updating more frequently again.
With that said, we do have quite a few new entries on the Crew page if you haven't checked it out recently.  Some of the most recent additions include William Flower: Animal wrangler and marine coordinator, Rob Bennett: Transport coordinator, Joanne Hagen: Script supervisor, Bruno Robotti: Scenic Artist, Kate Brennan: makeup, and Rodger Pike: Key craft service.
As usual if you notice any names not in the list that should be there, please email them to outlander@solsector.net.  Also, we hope to have more pictures soon, and our hope is that an official teaser or full trailer surfaces soon so we can get our first real glimpse of Outlander in action.
MAIN - IN THE PRESS - CAST - CREW - SHOOTING LOCATIONS - PHOTO GALLERIES - RUMORS FROM THE SET - MEDIA - CONCEPT ART - LINKS - DISCUSS