MAIN - IN THE PRESS - CAST - CREW - SHOOTING LOCATIONS - PHOTO GALLERIES - RUMORS FROM THE SET - MEDIA - CONCEPT ART - LINKS - DISCUSS
FEBRUARY 2007
02/26/07       Over the weekend a few job postings popped up online for various 3D artists talented in MAYA to work on Outlander.  We don't really know much about the company that posted the listing other than that they have offices in Vancouver and Montréal, and they've worked on effects for films such as  300, and Final Destination 3.  We don't really know anything about what kind of contract, if these listings are legitimate, they have either.  Possibly they are subcontracting specific services from Spin Productions.  They are looking for texture artists, shader writers, and Character TD's (whatever they are) for 3 to 5 months of work.  Their website seems to be under construction here, but people interested in those listing can email them at info@animationrg.com.
If that is the total sum of CG work left, that means that they will be hard at work on outlanders effects until at least the end of May and possibly as long as till the beginning of august.
Also, the CG work on Outlander won't be it's only connection to 300, which was filmed in Montréal.  A number of stunt performers on 300 also went on to perform stunt duties for Outlander, some of them being specifically chosen for Outlander because of their involvement in 300.
02/25/07       We have a couple of great new stills for you today.  Unlike a lot of the behind the scenes stuff these really help us get a sense of the actual look of the film.  It's only too bad that they are  fairly low resolution.  The new pictures can be found in the stills gallery.
<![if !vml]>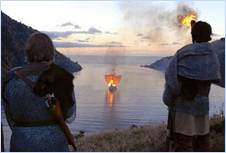 <![endif]>  <![if !vml]>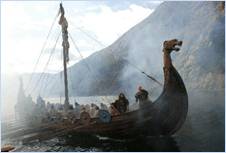 <![endif]>  <![if !vml]>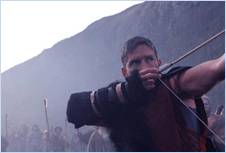 <![endif]>  <![if !vml]>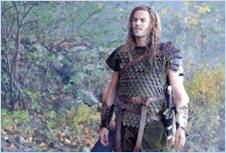 <![endif]>
02/24/07       Since our last update, we've added a few more entries to the crew page.  Also, just a reminder that if you spot any Outlander news, let us know at the link at the bottom of the page.  Plus don't  forget to check out some of the great stuff already released. 
With filming done, there's less people who will have worked on the set to talk to, but we look forward to seeing the first poster artwork and teasers and trailers as they become available.  As well, we'd be interested in knowing what kind, if any, plans there are for mass-marketing tie-ins.  A novelization doesn't seem out of the question, though I wouldn't expect what appears to be a violent film making it onto lunchboxes.    But if you hear of neat things in the works let us know.   Moorwen, and Kainan action figures might be fun too.
02/20/07       We previously reported on William F. White International Inc. and their involvement with outlander.  Their company news letter detail some of their involvement with the film.  One full page is dedicated to it and includes a number of pictures from the set as well.  You can find the magazine in PDF format here.  Outlander is on page 3.  We think this is the first time we've had a semi decent look at the village gates in the daytime in photos.
         WFW is proud to be the primary provider of Lighting, grip, camera support and related production equipment to Outlander.
02/18/07       One out of today's additions to the Crew page, is Adam Harnett.  Adam is trying to focus his career on matte painting and concept art for film.    As such, he worked on a number of matte paintings that will appear in the background of various scenes in outlander,  whether they were physically on the set or will be digitally added in post production.   
Adam is a relatively newcomer to the industry and doesn't have an IMDB entry yet.  Interestingly he also hails from Newfoundland, where a few scenes were shot for the movie back in October.
You can see samples of Adams work on his portfolio website here.
<![if !vml]>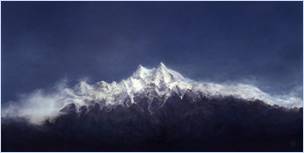 <![endif]>
02/16/07       A number of people who worked or are working on Outlander are members of the Directors Guild of Canada.  As such, the Canadian directors guild's Atlantic division has a page that outlines which of their members worked on Outlander.  It's an interesting find and you can look at  it yourself here.  The Guild also has individual profiles and résumés online for almost every member, and even says how many days they  worked on the film.  It's pretty staggering if you add up all the hours spent working on this film by even just this small cross section of the crew.
Almost half of these credits are, currently, not yet included in IMDB's credit listing for Outlander's crew.  They have been added to our Crew page as well as where possible links to both their IMDB page and Directors Guild page
<![if !vml]>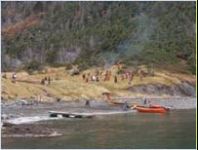 <![endif]>  <![if !vml]>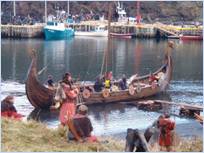 <![endif]>
02/14/07       For all of you not in north America,  Wild Bunch, the company in charge of international distribution of outlander (The Weinstein Company will be distributing domestically) are now hard at work selling Outlander to various local outlets.  Depending on the contracts awarded will determine when and how easy it is for you to watch the film during its theatrical release.  Cineuropa has a brief article that outlines some of the films that Wild Bunch is shopping around during the new film sale season that began with the Berlin Film festival, and of course Outlander gets a mention.  You can read the article here.
02/12/07       Back in September, England's The Evening Press caught up with Jack Huston to talk with him about his role in Factory Girl, a biopic about Andy Warhol.  That said, the actual article focused more on Jack himself and his background.  Jack plays a young Viking prince in Outlander, and a rival in a love triangle between him and Jim Caviezel's Kainan for the attention of Sophia Myles' character Freya. 
While some are quick to dismiss him for his heritage, he makes the effort to stand on his own, to the praise of some of his co-stars.  Jack's family has been in show business for many years.  His aunt Anjelica Huston recently starred with Sophia Myles in 'Art School Confidential.'    His Grandfather, John Huston, is the famed director of classics like 'The Maltese Falcon.'  His Great Grandfather, Walter was also a famous actor.  All three of them are Oscar winners.
         While he is keen to distance himself from his aristocratic lineage, he fully embraces his cinematic inheritance. 'I actually won an art scholarship to Millfield [school] but I wanted to act more than to be an artist.' The resolution was made when, at six years old, he played the lead role in Peter Pan. 'It's in the blood, you could say. At that age, I didn't really understand the significance of my family heritage so the decision was purely mine.' As a child, he would put on plays for his parents' friends, such as Marlon Brando and David Niven, and from the age of 11, he was touring local theatre companies during his school holidays in Norfolk.
         'It's a weird thing acting is like a fever that happens to my whole family,' he says. 'Even Anjel [Anjelica], she didn't want to do it. She was a model for a while and then, bang, she's back on set acting. We can't say no.
         [When he moved to Los Angeles] he had the advantage of his surname and his aunt Anjelica living nearby, but insists, 'I tried my hardest to disassociate myself from the family name. I shy away from it as much as possible in meetings or auditions. The nepotism factor has always been at the back of my mind but I would feel far too embarrassed to call up and ask a relative for help. They've done their bit and now it's my turn to prove myself. I'm not asking for handouts.'
         Jack doesn't see himself [as too glamorous]; he prefers to think of himself as a hardworking actor with a lot to live up to. 'As a Huston, the window might be slightly ajar but you've got to jump through it,' he says.
The article is an interesting read so take a look here.  Be aware though that that site's layout makes it easy to miss that there are three pages to this article.  We didn't  manage to find it anymore on the Evening Press' site.
<![if !vml]>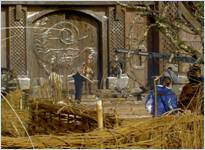 <![endif]>
02/10/07       G4 finally put up the complete interview they did with Patrick Tatopoulos.  Almost a month ago they released a video in which Patrick shows off a 3D maquette of the Moorwen from Outlander.  This video is from a broader perspective and covers much of his career up to and including the new Die Hard movie.  You can watch the clip here.    All the interesting stuff about Outlander is in the earlier video, but you will see some brief shots of the same stuff in this one too.  But it does give us an interesting look into the man behind Outlander's creature.
<![if !vml]>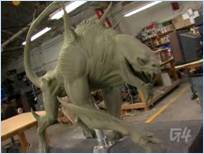 <![endif]>
02/09/07       An interesting article showed up on the Ask Men web site.  They outlined their top 10 movies being released in 2007 that were shot in Canada.  You can find the article here.  Outlander is the 8th entry though they're in reverse order so it's the third actual entry.   Theres nothing really new in the article, though but it's neat all the same.  Check out the references on the last page of the article. 
That said, Outlander's release date is still up in the air.  Back in October, The Georgian reported that the movie would come out approximately a year from then, and various sources mention Outlander as being release in third or fourth quarter 2007, but various rumours abound perpetuated by some of the secondary crew on the set that Outlander isn't expected until summer '08.    Personally we hope it's sooner than later and a fall date would be perfect, though there's often a lot more complicated issues involved.  The company releasing the film will be looking at what kind of films it will be going up against at the boxoffice.  As well, they may decide that they need to distance it from the other  Viking movies coming out this year, including 'Pathfinder' and Robert Zemeckis' Animated 'Beowulf.' So a later release date certainly isn't out of the question. 
<![if !vml]>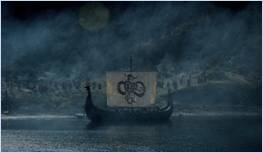 <![endif]>  <![if !vml]>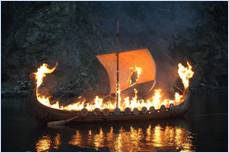 <![endif]>
02/07/07       We came across this small bit from a Halifax paper from a little over a month ago.  A colomnist with The Coast mentioned that Outlander has another Executive Producer credit that has yet to be added to the IMDB credits for Outlander.  You can find the full article here.
         Bob Weinstein sightings began rolling in during the Atlantic Film Festival as the former Miramax and current Weinstein Company honcho assumed exec producer duties on Outlander. Budgeted officially at $42 million—we hear it's more—this sci-fi extravaganza has been sapping every film resource in the city, especially bearded men.
02/05/07       An interesting article surfaces on the Times online, out of the UK.  The article focuses on the Bafta awards – the English equivalent of the Oscars.  It details some of what goes on behind the scenes but then diverges into a showcase of up and coming English talent that they expect to continue to turn in Oscar – or Bafta - caliber performances in the times to come.
         "Just for the fun of it, and to show that, whatever may be said, British films are rich in talent, we invited some excellent actors, directors and writers to be photographed, all of whom should be winning Baftas in the future."
Of course one of the featured actresses is Outlander's Sophia Myles, who plays Freya, the Viking warrior princess opposite John Hurt, Jack Huston, James Caviezel and Ron Perlman.  She told the Times about her role:
         "I spent a lot of time hanging from cliffs in freezing rain."
<![if !vml]>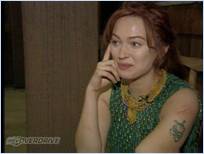 <![endif]>
02/04/07       We've added a number of new entries to the cast page.  One of the more notable ones is for Kevin Labanowich.  He is also an animator working on Outlander's computer effects. 
02/03/07       As Jim continues his world tour to promote Déjà vu, more interviews are popping up around the net.  The New Zealand web site http://www.incinemas.co.nz/ interviewed him and remembered to ask him about Outlander, which he had just finished filming.  Here's what he had to say:
         Q: Can you tell me about your character in Outlander, the science fiction project you're currently working on?
         A: It's a hard one to explain, the Director, Howard McCain wrote it and has had it for years, much the same way that Peter Jackson did with "Lord of the Rings". The producer on this is from "Lord of the Rings", Barrie Osborne. Special effects will be lead by the people who did "Star Wars" and "Matrix".
         The film takes place is 750AD. The movie opens up with a great Viking King being buried at sea. They have really authentic characters of Viking times in the Nordic Areas with beautiful 1000 foot waterfalls with cliffs. Archers fire these arrows from the cliffs which land on the ship and begin to burn the body and the ship. That's how they buried them back then. Sparks go up into the air, you hear a different kind of music and a spaceship comes into this world. The Director calls it when Sci-Fi meets the Mythological. They actually made up a word for it - Sci-Mythic. I just got done filming then got on a plane to come down here. I think the film is due out next year some time. It's cool!
The only unfortunate bit is how his answer only further confuses the issue about when *exactly* the movie takes place.  All evidence seems to point to a date closer to 900AD as one of the executive producers has pointed out as opposed to  500, 700, or 750 A.D.  In some respects it's a trivial issue and it's debatable whether or not it actually wouldn't be better for the movie to come out theatrically without some kind of date disclaimer at the start.     At most, the date is merely relevant in establishing the look and historical accuracy of the Vikings to any given period.  You can find the complete interview here.
<![if !vml]>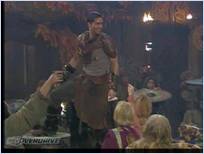 <![endif]>
02/02/07       We recently got in touch with Peter, a background performer from Outlander, and he was very excited to have been a part of the production.  Despite having his hands full with a  set of year and a half old twins, and running a home business, he couldn't resist the urge to slip away for some twilight Viking action.  Here's what he had to say about his experience:
         Sneaking off to be a Viking warrior was challenging… And extremely fun!
         I have absolutely zero film experience but got excited when I heard the call-out for "bearded white men who can look Norse".  I had actually given up and was about to shave, but luckily decided to call the agency one last time.  She said "what are you doing this afternoon? A number of guys have dropped out."
         I had already been up much of the night before but figured how hard or long could it be? Surely there are labour laws to protect the lowly film extra. I had no idea it would be a sixteen hour overnight blitzkrieg shoot of fire and sword battles and sprinting through the mud with torches and spears. Apparently I was coming off the bench to fill in for some injured and overworked backgrounders.
         Around midnight, after enjoying a bottle of water and Subway sandwich, I exchanged helloes with a rather well dressed Viking and thought afterward "Holy sh*t that was John Hurt - I didn't know he was in this movie".  A few hours later I was fighting alongside Wolfric to chase a very intimidating  and well-armed Ron Perlman out the gate. I got home around 10am with fake blood on my face and black kerosene soot in my nose. What a ride! The next day I was walking funny and feeling like maybe I was abducted by aliens.
         Without any other film experience for comparison, I can say that I was always treated very well without exception. The makeup and wardrobe people were especially delightful. The ones whose job it was to herd us around getting us to leap out of hiding at the right time and coaching us to do the right things (Preston and his helpers [Assistant directors]) were certainly curt and "results-oriented" but always professional. The backgrounders I got to know are an eclectic group to say the least, I had a ball and if there's a wrap party or premier party somewhere I want to go!
Peter also kindly sent along a few photos for which we're grateful.  You can find them in our galleries.
<![if !vml]>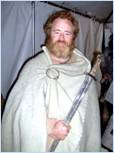 <![endif]>  <![if !vml]>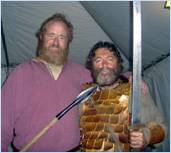 <![endif]>  <![if !vml]>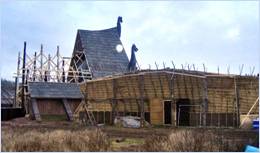 <![endif]>
MAIN - IN THE PRESS - CAST - CREW - SHOOTING LOCATIONS - PHOTO GALLERIES - RUMORS FROM THE SET - MEDIA - CONCEPT ART - LINKS - DISCUSS