OCTOBER 2008
10/30/08

Haven't You Always Wanted Space Pants?

Do you want to own a piece of Outlander history? Well your chance to have a part of this Viking film with Sci-fi underpinnings may be fast approaching. Premiere Props is having a special holiday auction on Saturday, November 8th. Among the many pieces that will be up for grabs, note what they say in the press release:

"Film fans, collectors and holiday shoppers will also have the chance to own rare costumes and props from movie box-office hits including Legally Blonde 2, Longest Yard, Shanghai Nights, Bad Santa, The Bourne Supremacy, Team America, The Run Down, Outlander, Deception, Sleepy Hollow, American Wedding, Who's Your Caddy?, The Great Debaters, Underworld Evolution, Passengers, The Sister of the Traveling Pants 2, P.S. I Love You, 27 Dresses and many more!"

So what exactly from outlander will be on sale? Word is that the items up for auction will be "Kainan's (James Caviezel) screen worn hero costume include 'Space' pants, black fiber glass 'Space' belt and a suede 'King' vest" along with "hero Wulfric Viking Sword Case including two real steel and hand crafted Wulfric Sword with sheathes." Not entirely sure what's up with that second description but these lots both sound pretty cool!.

Procedes from the auction will go to the 'Entertainment Industry Foundation' of which I'm not familiar with. The item previews will be online from nine to eleven AM and the auction itself starts at 11AM. You can place bids for the items in person, by phone, or online. Head HERE to register for online bidding.
10/24/08

Spanish Poster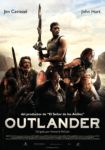 DeAPlaneta is ramping up for their November 28th release date in Spain. As such the first Spanish poster for Outlander has emerged.
The Spanish poster is an interesting exception as it's the first example that plays with the actual composition of the original international one-sheet. Where the asian posters almost slightly enhance the backgroud moorwen, this one removes it entirely and changes out the the gloomy skies for something brighter, and the Vikings are more front and center.
We've added both this poster and the Chinese one from the last update to our promo material gallery. Speaking of Chinese, since we don't speak (or read) Chinese we can't say for sure that it isn't a separate release but the date on the release seems pushed up to December 5th from November 21st. We've also added some pretty cool Chinese language banner ads for Outlander to the gallery that attest to this.
And speaking of advertisments, We've also got a Lithuanian ad in the gallery you might be interested in that advertises a special premiere promotion double-bill of Outlander and another film.
10/22/08

Asian Release Date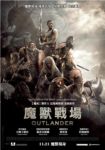 Have a gander at this Chinese language poster for Outlander. Apparently the release date for the film in whichever Chinese language territory this is for is November 21st. We're thinking it's either Taiwan or Hong Kong, but it's potentially mainland China as well, but we honestly haven't really figured that part out yet. The company handling this release is Hai Le Pictures (or is it Le Hai?). Bizarrely, The Chinese title translates back into English (according to google at least) as 'Battlefield of Warcraft.' However, we think 'warcraft' is wrong as it seems to refer to the Moorwen.
Along with this is the second Outlander trailer. This time around it's accompanied by Chinese subtitles but it also has the entire cool new Ascendant Pictures logo that's hinted at in the other copies of the trailer we have online. Watch it below.
Meanwhile, Lithuanians will be watching Outlander in theaters this weekend whereas we're awaiting word on whether the Russian release is still going ahead on the 30th or whether it's going to be pushed back again.
10/20/08

Production Photos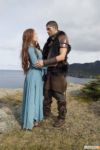 Today we have a number of new pictures by way of Russia. Outlander opens in Russian theaters in under two weeks and as such, a few new photos have been showing up on Russian film news websites. These here come via kinopoisk.ru and are nicely high resolution, though not specifically stills from the film itself.
Most likely these are publicity shots taken during the shoot. The angle and composition is similar to shots we've seen before but ever so slightly different - different enough that we see wires on the ground in one shot and A ballcap in the foreground of another. Still they're neat none of the less and showcase some of the cool little details in the costume design. On the other hand, we do have the shot of John Hurt carrying King Halga to his funeral pyre already, but our previous copy was very very low resolution.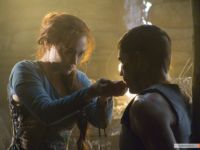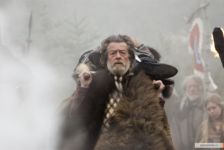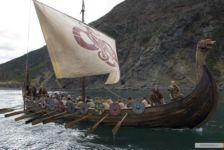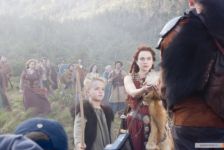 10/17/08

Spain Release Details

Outlander's Spanish release is now set for November 28th. Previously, they had suggested they we're looking at a december date yet had not formalized it. Outlander is being distributed by DeAPlaneta in spain. You can watch a spanish dubbed trailer on our trailers page.
10/08/08

Indian Release Details

The folks from 'Behind the Scene' a distribution company in India contacted us to fill us in on what's going on with the film in that region. Their company actually bought the film rights off of Star Entertainment a while back, and are currently working on getting the film set for it's November 28th release date. They're dubbing the film in Hindi, and are currently prepparing posters and a number of trailers and TV spots that will advertise different aspects of the film. They're also quite confident that the film is entertaining and has "hit" potential.

Other language groups in India will have to wait for news on which regional distributors will be picking up the film in their own dialects. So stay tuned if you are looking to watch the film in - say - Punjabi, or Urdu.
10/05/08

Outlander Goes To Os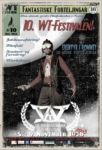 The official selection for the tenth annual WT Os International Film Festival, held (unsurprisingly) in the city of Os in Norway, has been announced. Outlander will be competing at the genre festival that runs from November 5th to November 9th. We'll post more detailed info on screening times as it becomes available. You can find the complete list of competing films HERE.
This is just the latest in a string of festival showings for Outlander. Earlier in the year, the film was shown to industry insiders in the Cannes film market then, despite having opened already in Latvia, the film's "official" world premiere was at the Locarno film festival in Switzerland in early August. The film then played for most of August and into the early part of September at the Fantasy Filmfest in Germany.
10/03/08

International Release News: Asia

Wilson from Pioneer films, contacted us to let us know that his company is distributing Outlander in the Philippines. The are looking to open the film in November. Taiwan is also looking to premiere the film in November. Wilson's collegues at Deep Joy Pictures are handling the film there.

Malaysian rights are being handled by Suraya, who are hoping to put Outlander in Malaysian theaters in December. In Signapore Festive Films have the rights for Outlander and seem set to debut the movie on January 8th 2009.
10/01/08

Outlander Opens in Kuwait

Some interesting news from the middle east today. Outlander premiered yesterday on numerous screens in Kuwait. The launch of the film is an interesting development as it marks one of the few films playing during the Eid holiday which marks the end of Ramadan. Theaters are closed for the last ten days of Ramadan, so it will be interesting to see if this generates extra interest in the film.

If you happen to be in Kuwait you can book tickets online for the movie HERE.
Click here to go back to the Update Archive