MAY 2009
05/12/09

Hong Kong Release Date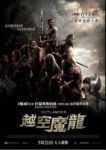 Outlander continues to make it's way across the globe. May 21st is the day Outlander will debut in Hong Kong cinemas. The film is being distributed by Deltamac Company Limited in the former British Colony. Check out the the poster and watch the trailer with subtitles below.
Interestingly, while Taiwan also distributed the film in Chinese, the Hong Kong release has a completely different localized title that translates to something like "space dragon" or the like.
Also, If you happen to actually be in Hong Kong, you can try and win tickets for the show. Check out this website HERE for details on how to enter. The promotion seems to be in conjunction with some kind of local retailer or supermarket of some sort.
05/08/09

Outlander DVD Review... and a Deleted scene.

Wow... Appologies for the lack of updates the last two weeks. I guess I needed a breather. In general news, Outlander continues into it's third week in the UK, and the film also Opens in Sweden today!

As you all know, Outlander Comes out on DVD in the US on May 19th. IGN got ahold of an advance copy and you can read their very positive review of the disk and it's features HERE.

"This film is absolutely straightforward about what you're getting into when you pop it into your DVD player – Vikings versus aliens. If that description intrigues you, then you'll probably enjoy this film for what it is. Add to that a great A/V presentation, and this disc delivers on its promise. "

Among the DVDs many features are deleted scenes, animatics, and a Director / Produce commentary. There are 27 deleted scenes ranging in legnth. some being just brief snipets, to extended scenes, and completely new scenes. It seems that all 27 are on the US DVD though in france, all 27 were only on the Blu-Ray with only five being found on the DVD edition. The IGN review seems to suggest they are all on the US DVD. Check out one such scene below!

This scene contains unfinished visual and audio effects but it's a neat scene that was cut to get the film to the contractual running time. Gunnar's wife and son have an interchange before the boy is sent out to check on the Horses...
Click here to go back to the Update Archive