MAY 2008
05/30/08

New Production still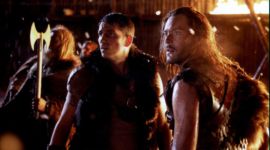 DeAPlaneta, the company responsible for distributing outlander in Spain, has updated their website with a section for Outlander in their "coming soon" section. Among the basic movie details there's a great new photo from the film featuring Kainan (Jim Caviezel) and Wulfric (Jack Huston). Click the thumbnail for a larger version. Also, they include a brief synopsis of the film. Here's the quick and dirty google translation of the original Spanish text:
A spacecraft crashes on a planet. The only survivor is Kainan, a humanoid warrior who has brought the Moorwen, a monstrous creature determined to avenge the death of her race at the hands of the army of Kainan.
When he leaves his ship ready to destroy the beast, he realizes the planet on which it has landed on Earth in full Viking era.
As of yet, no date has been announced for Spain, but it seems that for now it has been penciled in for December. In other release date news, Hugo reports that the latest issue of Cine-Live seems to confirm July 30th for Outlander's release date in France. Both Russia and the Ukraine seem slated for a September 4th release with Poland possibly getting the movie the following week. India could get the film as early as october but most likely won't see it until November.
05/28/08

More Cannes Reactions

The folks who organize Frightfest also got a chance to take in Outlander during it's Cannes market screenings, and the film left a very favorable impression on them! Rumor has it that they're looking at playing the film at their festival which this year runs from the 21st to the 25th of August in the UK. Tickets for the festival go on sale at the end of June. Here's what they had to say about the movie:

"...an absolute joy to watch is Howard McCain's epic science fiction adventure fantasy OUTLANDER. Jim Caviezel is the astronaut crashing his spaceship in 700 AD Norway and unleashing a giant alien creature on the local Viking tribes. Big, glossy, and acted with conviction by John Hurt, Ron Perlman and Sophia Myles, there's gore aplenty, the thrills are many and the CGI monster is pretty good too.
05/26/08

Cannes Review

Dodes'ka-den, an internet movie blog, apparently managed to get into one of the buyers screenings of Outlander at Cannes and have posted a short review online. The review is in Italian but is decidely positive. From their reaction it sounds like Outlander is everything we're hoping it will be: great special effects, lots of action... and an all around good, fun popcorn movie. They don't offer a lot of details about the plot itself but they do delve into the nature of the Moorwen to the point that we would consider it spoilers so consider yourselves warned. Below is our beginners attempt at a translation so hopefully we've captured the essence of the review. If you really want to read the spoilers just highlight the "missing" text to read it below or you can read the original review in Italian here.

Reviewed by Daniel Clementi

A space ship from a far away world falls into a cold lake in northern Europe. We're in the midst of the Viking era under the wise leadership of King Halga.

A man from space arrives in a place both [primitive?] and devastated by small wars but he has brought with him more than just technology and wisdom. With The astronaut also comes an alien creature, that feeds itself on human beings and that is terrifying and very destructive, but she is not a creature of evil but is the last survivor of an alien race entirely destroyed by the race of men who came from space and colonized it's planet of origin. The beast - a victim of colonization - in her last desperate attempt to live, kills and destroys the unsuspecting Vikings, trying in turn to colonize the earth.

It is a film about war and the struggle for existence that does not deprive the viewer of rich special effects, is sexy and has spectacular action. It is a good movie born of the clever mix of fantasy and science fiction cinema. It's nothing too new really, but as a package, the end result it is certainly high quality for an unconcerned, undemanding evening. Every now and then we want this too.

If you can provide a more accurate translation, or want to report Outlander news, don't hesitate to e-mail us at outlander@solsector.net
05/23/08

Article Scans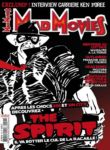 Today we have a scan of the Mad movies article from a few weeks back. It's great to see Outlander in print like this and the article has some relatively new pictures from the film which we posted earlier. Thanks to Hugo, you can read the article below. The actual article itself is in french but seems remarkably similar to the UGO interview from over a year ago. It covers a lot of the same ground, as well as throwing in some info from other sources available here.
Interestingly the article mentions august 8th as the release date but from what we can tell, the France premiere seems more likely set for July 30th and is corroborated by the website for the company in charge of the French marketing strategy for the film. Plus movies apparently usually premiere on Wednesday in France. It's possible that August 8th is the tentative date for north America, but our sources say that the Weinstein company hasn't finalized this as of yet but are "nearing something soon."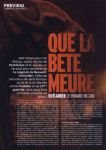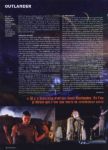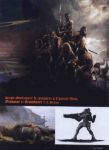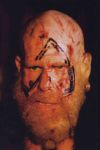 05/20/08

Sales News out of Cannes

With the Cannes film festival comming to a close and Outlander's Market screenings behinds us news is starting to filter down regarding it's effects. According to this article at Screen Daily, Telepool has bought the rights to distribute the movie in Germany. Also Pachamama Cine bought the rights for Argentina. They join an extensive list of sold territories that you can find in our Outlander FAQ. Pachamama also distibutes in Uruguay, Paraguay and Chile, so we'll also have to see if they will handle those countries as well or not.

One territory that hasn't picked up rights for the film yet is Norway. An interesting article appeared today on the Norwegian news site www.dagbladet.no. The article itself is in Norwegian and describes the work of Torkel Selmer who works for one of Norway's three main film distributors. Part of his job is to go to Cannes and watch Market screenings to decide what movies to purchase for distribution. Oddly, the article uses Outlander as a hook. It doesn't say what he thought of the film or whether his company made an offer or not, but concludes by saying that as of the time of the article the Norwegian rights were still for sale

EDIT: It seems that the fine folkes at Dagbladet have since re-edited the article and no longer talks much at all about Outlander. Take from that what you will.

In other news, The Western Star, a newspaper in Cornerbrook, Newfoundland near where the film's opening and closing scenes were shot, was understandably interested in when Outlander would hit theaters. So they got in touch with Executive Producer Don Carmody, and attempted to contact the Weinstein Company. While they received no response from the Weinstein Company, Mr Carmody kindly emailed them to tell let them know that "The movie is finished and delivered to the Weinstein Company" and that he doesn't "have any further information on their release plans." You can read the whole article here.
05/19/08

Hero in Shinning Armor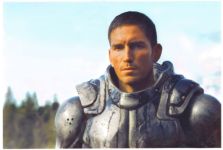 A Jim Caviezel fan recently came across this Picture of Kainan (Jim's Character) in what is apparantly his alien battle-wear. This is the first reall look at the armor beyond the cool piece of concept art we saw a few weeks back. It will be interesting to see how this looks up on the screen
The actual armor was, according to one stand-in, a "skin tight crotch and butt highlighting wetsuit that isn't wet, and is in fact tricked out to look like a space battle suit." The outside is covered in hard plastic armor panels and was apparently pretty uncomfortable to wear. From the photo though, that discomfort was probably worth it because it will probably look pretty cool on screen.
05/18/08

Reminder

First up is a reminder that Outlander's second market screening at Cannes is only (as of the time of this update - 11pm PST) 6 hours away. If you are able to take in the screening we envy you. And we look forward so hearing what kind of impression the screenings made on buyers.

On another note, Sophia Myles was recently interviewed by MediaBlvd magazine about her role in CBS' vampire TV series Moonlight. Of course they asked her about Outlander and she provided a very similar response to the ones she gave last summer at the Hallam Foe premiere press event:

MediaBlvd - You have a Viking/science fiction film, called Outlander, coming out? Can you talk about what that is?

Sophia - It will be out sometime this year. It's set in 709 A.D. I play a Viking warrior princess in a small Viking village. Right at the beginning of the story, an alien ship crash lands onto Planet Earth, and onboard is Jim Caviezel, from The Passion of the Christ, and this terrifying Morwin, that looks like a dragon/bull. He's brought that with him, from a galaxy far, far away. It's an epic adventure, where we try to slay the beast. I haven't seen that mixture of period and science fiction before, so that was interesting to me.

MediaBlvd - Why do you think you're attracted to these larger-than-life roles? Are you a fan of sci-fi?

Sophia -I'd pick sci-fi over vamps. I'm into that. There's got to be other forms of life out here. I think we'd be incredibly self-centered to think that us, on Planet Earth, are the only thing out there. That fascinates me.

A special thanks to Maria over at sophiamyles.org for pointing us in article's direction.
05/17/08

Running Time?

The reports out of Cannes indicate that the final version (at least the international version) of Outlander will be 115 minutes long, or just shy of two hours. That is the standard legnth that most studios aim for, but it's also less than the estimated two and half hours that was reportedly shown at a special screening nearly two months ago.

While it's possible that the early reports were mistaken about the legnth, those same reports said they had been told it was an unfinished version and that the film would recieve some minor changes afterward. We're all for tightening up the pace of the film if need be (though not at the expense of the story and artistic merit of the film), but it's also our understanding that the director and Ascendant Pictures delivered a completed film at the end of January. If there is indeed a discrepancy between the two running legnths then you can almost guarantee a directors cut DVD when the film hits video stores when it's done it's theatrical run.
05/16/08

The Rumor Mill: More release dates?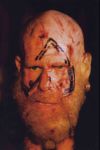 We've been hearing a number of dates around the web for France, but so far the most likely seems to be August 8th. However we've also seen July 30th thrown around a couple of times. While it's a possibility it's also a date we've seen listed tentatively a while back. Hopefully we'll see a more official announcement on this in the days to come.
Meanwhile, it appears that Outlander will be arriving in cinemas in India some time in October. Also we forgot one of the pictures from the Mad Movies article yesterday, so we've attached the thumbnail of Ron Perlman's Gunnar here.
05/16/08

OUTLANDER in French Movie Magazine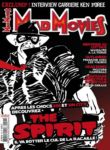 France seems to be full of great Outlander news this week. Don't forget that in just over two hours (at 2:00pm Cannes time) Outlander will be having it's first full market screening.
Hugo (who previously wrote in a while back about an Outlander tidbit that showed up in the french magazine CineLive) picked up the May issue of Mad-Movies magazine that happens to feature an article on Outlander. He mentions that the article doesn't really have any new info about the film itself but it did contain a couple of neat photos from the film, which he kindly sent along as well. First up is a picture of Kainan (Jim Caviezel) shackled to something, and then there's one of what looks like Freya (Sophia Myles) being threatened by a sword. And lastly, there's a better look at the alien warrior concept art that we showed a fuzzier version of a few weeks back - All very cool.
Hugo also mentioned that the article re-iterated that the apparent final budget of the film was 47 million dollars, and also repeats the August 8th release date for France. If this date proves true, could it be an indicator of about when to expect the film in North America? We hope so!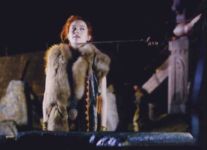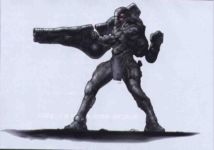 05/09/08

OUTLANDER: Cannes Market Screening Schedule

Wild Bunch has posted their screening schedule for Cannes online. Outlander is slated to show in the Market on Friday, May 16th and Monday, May 19th in the Star1 theater. It will be showing at 2:00 P.M. (or 14:00) both of those days.

Again if you do manage to catch one of these screenings, let us know your impressions by e-mailing us at outlander@solsector.net
05/08/08

BREAKING NEWS: Outlander to have Market Screening at Cannes

A couple of weeks ago we mentioned that Outlander would be headed to Cannes but that we were uncertain in what fashion. Cineuropa has published an article detailing Wild Bunch's Cannes Film Festival offerings. Among their official entries in the competition, the article explaines which other films will be present at the festivals various sections. This includes at the very end of the article, a statement that Outlander will have it's Market Premiere Screening at Cannes. Cannes runs from the 14th to the 25th of May.

If you are unfamiliar with the Cannes market, it's a place where companies promote their movies to distributors. While movies are in preproduction they show potential buyers some art and the pitch, and possibly even the script. More than one buyer will get rights to the films oftentimes, as films will have different distributors in different areas of the world. Wild bunch has been handling Outlander's sales at least since 2005 and were present at last years Cannes film market as well. The difference this year is that they will actually be showing the entire completed film. Even at the berlin film festival's film market a few months ago, They only showed a promo reel of completed footage - though to good reception we should add.

Wild Bunch's Cannes screening schedule should be available soon so keep posted for more info on which screens and what times the Movie will be showing in the Market. Keep in mind that these screenings are likely only open to industry professionals and not to the general public. However if you are going to Cannes we would love to hear from you. If you manage to catch a screening of the film, we'd love to hear from you even more and any impressions of the film you may have.
05/03/08

The Rumor Mill: Outlander Release Dates

Talk about when Outlander will hit theaters is rampant on the internet. As such we've heard many murmurings of supposed release dates, some less possible that others. It's trickier deciphering some of the foreign language stuff too as stuff gets lost in translation going both ways. We even heard a crazy rumor that Outlander is entirely in ancient norse (the way Passion of the Christ was in Aramaic and a few other old languages ) but that simply just isn't true. Outlander will be in English primarily. Jim Caviezel's alien race will be speaking an alien language that is actually Ancient Norse, which is a dead language that only a handfull of university professors actually know.

Now about release dates... We recently heard - but haven't coroborated the stories - that Outlander has a release date of September 12th in Poland which puts it a week later than the supposed Russian release date. We've also heard August 6th for France, Which coincides with one of the two weekends we figured would be most likely should Outlander premiere in that month. Keep in mind that we haven't really heard anything official.

Have you come across an Outlander article or Rumor? Let us know by e-mailing us at outlander@solsector.net or discussing it at the forum.
05/02/08

OSN reviews the Outlander pre-production featurette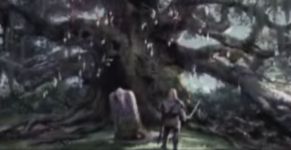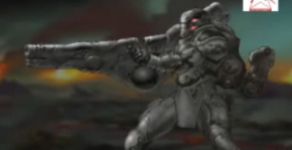 While patiently waiting for word of more promotional material for outlander (and a release date) we here at outlander.solsector.net were able to review a different kind of promo material. Many of you are familiar with the pre-production teaser that was made cheaply to try and raise money to actually make Outlander. The teaser was interesting but it's very nature makes it un-representative of the completed Outlander film or any of the effects and shots there-in. What you may not know is that Ascendant Pictures also produced a promo reel, or featurette to go along with it for the same purpose of raising funds and for selling the movie to distributors.
We recently had a chance to see the reel and can only say we're more enthusiastic than ever for the movie. Even with what we already know, we were impressed with the scope of the film. The reel wasn't entirely complete. There was one brief section missing which we assume had to do with location scouting in new zealand. That would have been interesting to see though understandably irrelevant since the production never ended up shooting in New Zealand.
The reel almost certainly contains major spoilers though so we don't think it would be apropriate to post any of it yet, though it possibly could be made available once the movie comes out.
The reel covers a lot of ground and is loaded with shots of concept art pieces, and contains a couple of storyboard animatics (including a pretty crazy fight atop a water fall) as well as a section of the preproduction teaser. There are concept art of all the main characters as well as of various film locations and pivotal scenes. Interestingly the Kainan concept looks like Karl Urban who was originally slated to play the character. There's some images that are already in our concept art gallery as well as some of various vehicles and some different pieces featuring the Moorwen. It also includes the following which seems to be a longer version of the tagline in the pre-production teaser:
"One man... Two Worlds... A battle fought in a time of legend. A hero from another world must save the people he loves by destroying an evil beyond imagination. - OUTLANDER - Sometimes the Legends are true"
Most of the reel is acompanied by a moving piece of music though we couldn't place whether or which movie it may originally be from. It is also accompanied by three key individuals talking about the production. Here are a few highlights:
Barrie Osborne: "We're positing this clash of cultures - Viking world and futuristic person from another world - and that really is a unique and interesting idea with great characters and a great love story. And also, these are characters that are rounded - that are three dimensional and not two dimensional cut-outs.
Dan Hennah - Art director of King Kong and Lord of the Rings: "You've got a script that not only gives you this depth of a period film but also introduces another element which we sort of haven't really seen before. There's a monster which is a pretty wierd sort of a monster and then you've also got this high-tech space part of the story. We see where the guy came from. We have the opportunity to see part of his background and why he's here. So we get to see this wonderfull technology. We get to see another type of life but it still in it's own way parallels our life now on earth. "it connects with life back in that viking age and one of the lovely things is the real things that mattered then, still matter now and still appear to matter in the future"
Iain McCaig - Chief concept designer on all Star Wars prequels, and one of the founders of Ninth Ray studios: "One of the special things about this project for me was that we were alowed to tackle absolutely everything in the show, and in our team we have great comic book artists, visual story tellers. We have some of the best environmental designers and vehicle designers in the world. We have monster makers. We have a dinosaur and viking expert on staff here and we were able to come in and handle everything from the pots and pans to the offering stones to the shield halls and the space ships..."
"I think it might reach the same audience as the titanic because at it's heart you've got a love story. It's an action adventure love story with a monster and all of the sudden it's revolving around human characters which is where most monster movies fail."
"it's the best mix of genres right now beyond the obvious one of science fiction and period piece - vikings and space ships. For me it's the monster movie love story. One of the most classic films of all time worked on that premis, which is King Kong. This is a very logical inheritor of what King Kong began."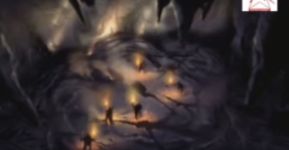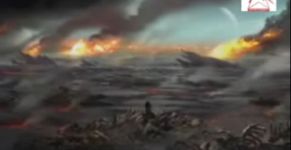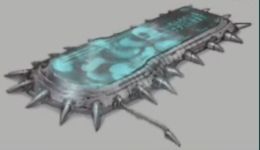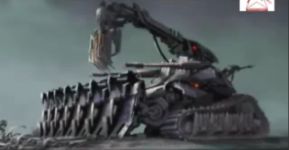 Click here to go back to the Update Archive