March 2009
03/31/09

UK Promotion Pushes Ahead

If it weren't for a spat of obligations that have come up I would have posted this sooner. Outlander's UK release is on track and Momentum Picture's promotional push is moving ahead at full steam. You Can sign up for updates on their release on Twitter here. You'll notice that their website that we've mentioned before at www.outlandermovie.co.uk has gone online with a number on neat production photos as well as cast info and other goodies. Outlander goes into wide release in the UK on April 24th.

For Outlander fans in France, don't forget to pick up your DVDs and Blu-Rays April 2nd (2 days from now). Check out the french Website for the release that includes a couple of clips from the film, the French trailer, and a TV spot, along with pictures and details about the disks.
03/25/09

Belgium Festival

The current aproximate date posited by the Belgian distributor for Outlander's release in that country is January 2010. However, you do have another option! Outlander will be playing at the Brussels International Fantastic Film Festival (or BIFFF). The festival runs from April 9th to the 21st. Outlander will be playing at 8:00P.M. on April 14th. You can pre-book your tickets online from the festival website here.
03/21/09

Rated in Ontario

Here's an odd one. It's not that the rating is either surprising or that it's a DVD classification. You'll see what we mean in a moment.

Ontario now joins Quebec in having rated Outlander. The Ontario Film Review Board website notes that they have given the move a 14A rating in that Canadian province for "Occasional gory/grotesque images, use of expletives,occasional upsetting or disturbing scenes, limited embracing and kissing, and portrayals of graphic violence." Now the wierd part is that the film was - according to the OFRB website - submitted to them for classification by Universal Studios Home Video Canada. We had always assumed that Alliance Films - as is typical of Weinstein releases - had distribution rights in Canada, and indeed it was Alliance that submited the film for classification in Quebec. Some investigation is in order!
03/16/09

Officially Licensed Replicas On Sale Now!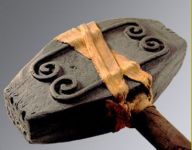 Are you a LARPer? Or, do you think that Ron Perlman's Gunnar was the best thing about Outlander? Then Strongblade has something for you!
A while back we told you how Strongblade had bought the rights to make various collectible items from the film. Now the first of those has made it to market. You can buy your very own replica war hammers identical to the ones used by Ron Perlman to smash in Viking heads in the film. You can make your purchase here. The Hammers can be purchased singly but you get a discount if you buy a pair! These are more than just ornaments though. They are made with detailed Foam Rubber and have a "super high-performance Carbon-Fiber Core" and are "Virtually Indestructible." This is a limited run of 500 pieces and one will cost you $89.
---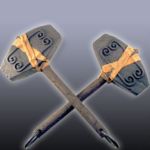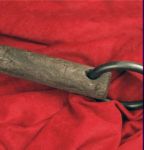 "One of the most exciting characters in the movie is Gunnar, the Viking chief of the enemy tribe. Played by Ron Pearlmann, Gunnar wields two vicious-looking stone war hammers. After seeing those hammers, we wondered why we have never seen stone war hammers for sale. After calculating the shipping costs, we realized wuite quickly why. So, we did the next best thing. We made highly detailed, extremely rugged and high-performance foam rubber hammers."
"These fully licensed Outlander War Hammers are actually better than stone hammers for a few reasons. First, you can actually use two of them without being a really big, outrageously buff Viking Chief. Second, you can actually hit your buddy in the chest with it and not have to worry about putting him in a wheelchair for life. And thirdly, you don't have to worry about lichen infestations. There is nothing hard in the faux stone portion of it. Just spongy rubber. Perfect for Live Action Role Playing, or cube-to-cube warfare in the office."
"This is a very limited edition of only 500 pieces; They come with a numbered certificate of authenticity. We expect them to sell out fairly quickly when they come in as there are no stone LARP hammers out there that we are aware of."
03/13/09

UK poster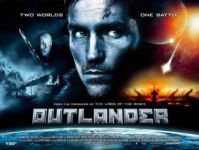 We've metioned it before in passing but it deserves mentioning again: Oultander will debut in the United Kingdom on April 22nd. Momentum pictures has great confidence in the potential for the film and is busy developing a hefty slate of promotional plans and we can say with confidence that you can expect another trailer in short order. As well, the've set up a website over at www.outlandermovie.co.uk which should go live soon with numerous activities and things of interest.
While we wait anxiously to see what they have in store, chech out the poster that has appeared online recently. It's a neat mix of what we've seen on some of the other posters with the tag line 'Two worlds, one Battle.'
03/13/09

US DVD art - US theaters For Week of March 13th

IGN got a bead on the US box art for the Outlander DVD. Their 'exclusive' first look is pretty cool but -surprise surprise - it's pretty much exactly the same as the French box art that we posted previously and that you can see in extra high resolution next to the english one below. Also, I've thrown in a look at the French scene selection screen... Outlander comes out on DVD and Blu-Ray in France on April 2nd. THe US DVD will debut on May 19th.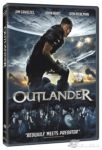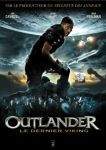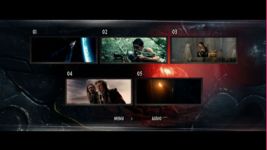 Also, once again we're looking into getting together a list for you all of where you can see Outlander this week. Here's what we've come up with so far:
Harrison, Arkansas - Carmike Harrison 8

Orlando, Florida - Colonial Promenade 6 - Touchstar Cinemas

Garland, Texas - Cinemark Hollywood USA

San Antonio, Texas - Cinemark Dollar Movies 16

Harlingen, Texas - Cinemark Movies 10

Brownsville, Texas - Cinemark Movies 10

Longview, Texas - Hollywood - Movies 9
03/08/09

Even More US Theater Listings for Week of March 6th

Here's something crazy: Just when you thought things were winding down, Outlander is apparently playing in 46 (!) theaters this week. If you missed it, then maybe this week is your chance. Now why did they wait till The Watchmen was showing to put outlander in the second largest number of theaters for a given week. I'll try and list as many of the screens as I can... So far I have 31 theaters listed wbich still leaves another 15 out there! Email us at outlander@solsector.net and let us know if it's also playing in your town, or leave a note on our message board.
North Carolina

Fayetteville - Omni Cinemas

Matthews - Cinemark Movies 10

Highpoint - Carike 8

Michigan

Warren - Cinemark Movies 16

Muskegon - Cinema Carousel

Oregon

Cornelius - Cornelius 9 Cinemas

Alabama

Birmingham - Carmike 10

Tennessee

Antioch - Carmike Hickory 8

Arizona

Phoenix - Silver Cinemas Bell Road

Tucson - Century Gateway 12

Ohio

Mansfield - Cinemark Cinema 10 - Springfield Square

Willoughby Hills - Cinemark Movies 10

Texas

Garland - Cinemark Hollywood USA Movies 15

Sherman - Cinemark Movies 7

Wichita Falls - Carmike Century City 6

Longview - Hollywood Movies 9

Harlingen - Cinemark Movies 10

San Antonio - Cinemark Movies 16

New York

Rochester - Cinemark Movies 10 - West Brighton

Rhode Island

East Providence - Patriot Cinemas

Florida

Orlando - Colonial Promenade 6 - Touchstar Cinemas

Georgia

Columbus - Carmike Peachtree 8

Fayetteville - Cinemark Movies 10

Riverdale - Galaxy Riverdale Funplex 13

Oklahoma

Tulsa - Cinemark Movies 8

New Mexico

Albuquerque - Cinemark Movies West

Albuquerque - Cinemark Movies 8

Wyoming

Cheyenne - Carmike Cole Square 3

Kansas

Topeka - Hollywood - West Ridge 8

Arkansas

North Little Rock - Cinemark Tandy Movies 10

South Carolina

Rock Hill - Carmike Cinema Seven
03/06/09

More US Theater Listings for Week of March 6th - And Order Your Sountrack CD!

UPDATE: I've added three more locations to the list including two in Texas.

Before I get to which theater's I've uncovered that are showing Outlander this week (Yes it's still showing!) I almost forgot to reminde everyone to order your Soundtrack CDS. Limited edition CDs (there's only 1500 in the entire batch) went on sale from La La Land Records on tuesday for $19.98 I didn't get a chance to order until last night and by then the signed copies had all been sold already. The CD contains 64:34 minutes of music divided into 15 tracks. Also, note that the samples on their site are different tracks than the samples included in my Interview with Geoff Zanelli HERE. Howard McCain was supposed to have written some liner notes as well so you'll want to check those out too. Here's a full list of the CD tracks:
Setting The Trap (3:11)

Gunnar's Raid (6:04)

The Moorwen Genocide (4:40)

Tell Me About Your Dragon (5:17)

Gods Be With You (6:11)

Crash Landing (5:13)

Kainan's Capture (2:32)

Interrogating Kainan (2:05)

Herot Town - 709 AD (4:16)

Now You Look Like A Viking (2:06)

It Was A BEAR (4:48)

That Was NOT A Bear (3:49)

Into The Moorwen Lair (3:18)

Killing The Beast (7:59)

Kainan Becomes King (2:37)
And as promised, here's the list of locations for this week so far... and if you know of any we're missing, please email and let us know so we can add it to the list.
North Carolina

Matthews - Cinemark

Highpoint - Carike 8

Michigan

Warren - Cinemark Movies 16

Oregon

Cornelius - Cornelius 9 Cinemas

Alabama

Birmingham - Carmike 10

Tennessee

Antioch - Carmike Hickory 8

Arizona

Phoenix - Silver Cinemas Bell Road

Tucson - Century Gateway 12

Ohio

Mansfield - Cinemark Cinema 10 - Springfield Square

Willoughby Hills - Cinemark Movies 10

Texas

Garland - Cinemark Hollywood USA

Sherman - Cinemark Movies 7
03/05/09

French Trailer

Outlander hits French shelves on DVD and Blu-Ray April second. With that, Wild Side - the home video arm of Wild Bunch - has put out a brand spanking new trailer. This time, unlike the Weinsteins (who were too cheap to cut their own trailer for the North American theatrical run and instead cut a deal with Wild bunch for the International trailer we've had for almost eight months) they've actually put together a new trailer that's equally impressive as the first. This one is dubbed in french, but our english readers should still find a lot to look at and admire in this trailer! It still has a lot in common with the other trailers so if you've see those you should be able to figure out what they're saying.

As we've previously reported, the french release has special features as equally impressive as those announced for the North American release. While there's no director commentary on the French release the Deleted scenes will be there along with the animatics, and the Blu-ray also sports DTS master audio. You can pre-order the French releases from Amazon's french site though keep in mind the disks are region specific.
03/03/09

DVD Release Date Announced

According to IGN the Weinsteins have set the Outlander DVD date to May 19th. Among the reported special features they list a director/producer commentary, animatics, and deleted scenes. Read IGN's report HERE. With this announcement the Weinsteins have also moved the film's listing on their website from the "Now Playing" to the DVD section.
Click here to go back to the Update Archive